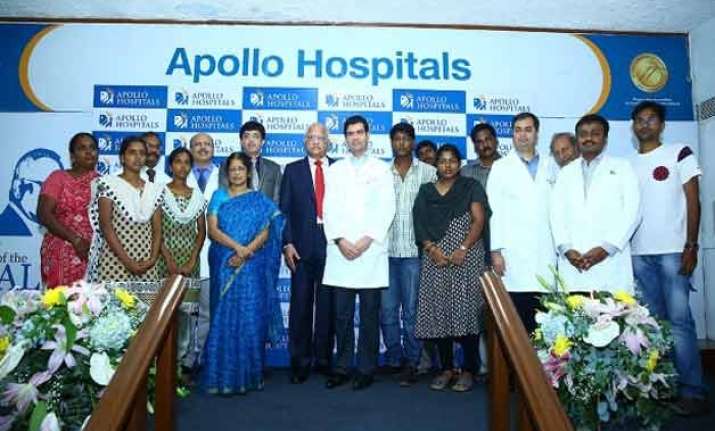 A unique wave is flowing in Chennai these days. One can term it as goodness or life saviour but medically it is organ donation.
Though we get to hear families agreeing to donate organs of their dead ones, yet such familities are hard to find in India.
On Monday, families of such five brain-dead people agreed to donate organs of their loved ones in Apollo Hospital. With this, they gave life to 23 patients who awaited transplants of heart, kidneys, lungs and cornea.
Amongst the many family members of the brain-dead, Saranya and Amarnath, whose father G Ravikumar was declared brain-dead agreed to donate the organs of the latter. With the help of counsellors, they understood that their father would not be able to live by himself anymore and hence agreed to donate his organs to the needy. After donating her father's organs, Saranya said, "Though our father is not with us, he lives in two people now".
Another one Anandi had a tough time agreeing to donate organs of her husband yet after much hesitation she did. She donated five organs of her brain-dead husband. She said, "I would see my husbands in the recipients. I'm happy".
While countries like US and UK have an average number of 10-30 PMP (Per Million Population), in India the number is incredibly insignificant. As per a Times Of India report, the Indian statistics stand at 0.08 persons as organ donors per million population (PMP).
Tamil Nadu has the highest number of organ donations in a year. The state authorities also support provisions of Green Corridors to promote the act further.
Dr. Pratap C Reddy of Apollo Hospitals said, "In the US the organs fly from state to state and country to country. I wish India comes to that level".
What is brain-dead?
The term actually means that the brain of a person has completely stopped functioning. Even the basic reflexes are not shown by the brain. Such a person needs machines to perform even basic functions like breathing which is again for a very small time. In other words, if left by itself, the body of such a person even does not make effort to breathe on its own hence dies eventually.
Though laymen consider brain-dead as coma and expect that the person will come back to life after some time or can be revived the way it happens in coma, however, medically, brain-dead means completely dead as such a person will never perform any life-sustaining person.
A brain-dead person can survive even on machines for not more than 2-3 days which can maximum go for a week. Organs of such a person can be kept functional by keeping them on ventilator or through other machine support. Hence, such a person is capable to donate his or her organs within the period while he or she is on a life support system.