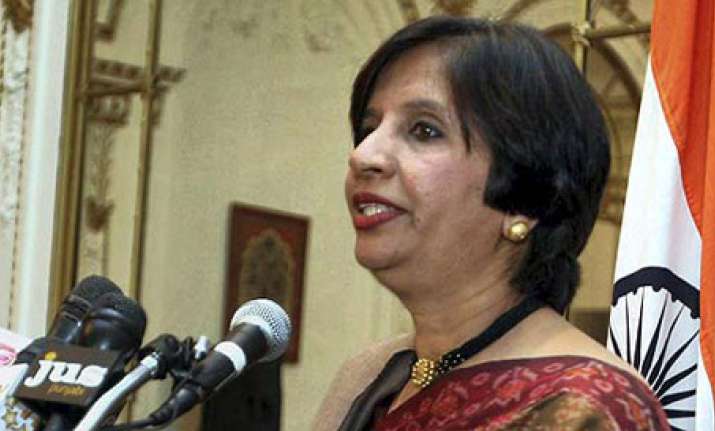 Thimphu, Feb 7:  India is "cautiously optimistic"on charting a way forward in the dialogue process with Pakistan and would like to see the process to mature keeping in view ground realities, Foreign Secretary Nirupama Rao said today.
"We had a good meeting, useful meeting. We were able to discuss a number of issues of relevance with the (Indo-Pak) relationship," Rao told reporters here, a day after meeting her Pakistani counterpart Salman Bashir.
She said her discussions with Bashir were not dominated by any one issue."We talked about the (dialogue) process and charting the way forward, what the best modalities would be," she said.
"All in all it was a useful meeting," Rao said, adding that both the sides had adopted an open and "constructive attitude." "I'm satisfied."
Asked about the next step, she said, "we need to wait and see.""We have to wait for this process to mature. We should be optimistic, cautiously optimistic because there are many issues that remain to be resolved," she said.
Pointing out that the nature of India-Pakistan relationship had been complex, Rao said, "we have to remain realistic. We should be aware of the realities."
She emphasized the need for a "vision" for the future of the relationship and noted that this was the feeling of Prime Minister Manmohan Singh.
Bashir, she said, had told her that his government also was committed to taking forward the dialogue process on outstanding issues in a constructive way.
Rao and Bashir had met for about 90 minutes last night and agreed that positive and cordial relations were in mutual interest of both the countries and they needed to work in thisdirection.
Later, a common press statement was issued by both sides which said that the two Foreign Secretaries had met in pursuance of the mandate given by their Prime Ministers
following their meeting in Thimphu in April, 2010 and the meeting of the Foreign Ministers in July last year in Islamabad and carry that process forward.
The two sides had agreed on the need for a constructive dialogue to resolve all outstanding issues. PTI