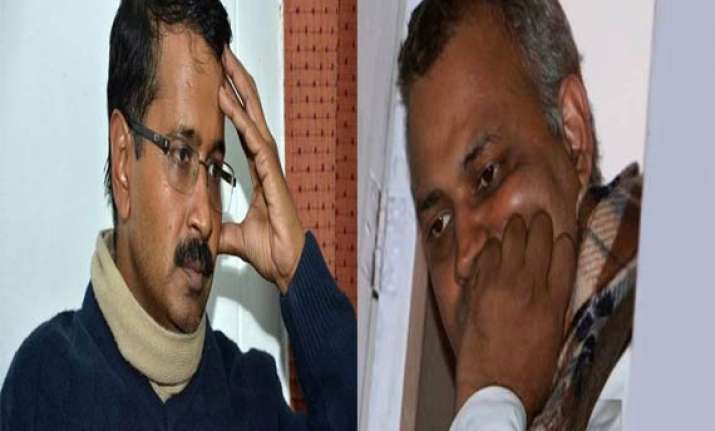 New Delhi: The Delhi High Court today kept two separate election pleas of BJP leaders against former chief minister Arvind Kejriwal and ex-law minister Somnath Bharti for framing of issues for allegedly exceeding poll expenses limit.
Bharatiya Janata Party (BJP) leaders Vijender Gupta and Arti Mehra, who lost the election from New Delhi and Malviya Nagar assembly seats respectively, have filed petitions seeking cancellation of assembly membership of Aam Aadmi Party leaders on the ground that they crossed the statutory limit of Rs 14 lakh in the 2013 polls.
A bench of Justice G S Sistani fixed Mehra's petition for framing of issues against Bharti on October 16, while Justice Vipin Sanghi fixed the plea of Gupta on September 26 for similar purpose.
Following the framing of issues in such petitions, the court asks both sides to lead evidence before reaching any conclusion.
Justice Sanghi, during the hearing, asked the counsel for BJP leader Gupta to bring on record all the relevant documents relied upon in the plea against AAP convenor Kejriwal.
In their petitions, the BJP leaders alleged that the Aam Aadmi Party (AAP) leaders spent more than Rs 17 lakh each in the assembly elections held on December 4, 2013, and sought orders declaring their election as null and void.
The Election Commission has set a limit of Rs 14 lakh for poll expenditure of every candidate during assembly elections, they have said in their petitions.
Their petitions also alleged Kejriwal and Bharti have indulged in "corrupt practices" and incurred huge expenditure during the campaign by organising a rock show "Jeet Ki Gunj, Vote for Change" on November 23, 2013 at Jantar Mantar after filing their nomination papers.
Their petitions alleged that Kejriwal had influenced voters through the concert, thereby affecting the outcome of the election.
The BJP leaders have also accused the two AAP leaders of having violated the Model Code of Conduct issued by the Election Commission, the provisions of the Representation of People Act and also the principles of the Constitution on free and fair elections.