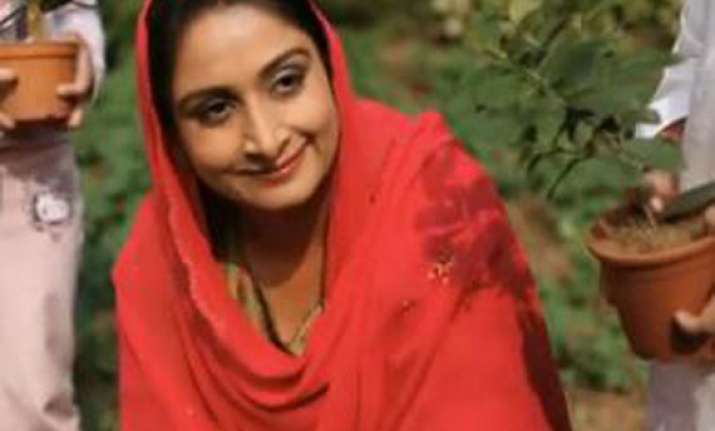 Chandigarh: SAD sitting MP from Bathinda Lok Sabha seat Harsimrat Kaur Badal, who is seeking re-election, yesterday declared her assets to the tune of Rs 108.14 crore,up by 80 per cent as against what she declared during last polls.
Harsimrats assets, which were Rs 60 crore in 2009, has now grown to Rs 108.14 crore, including that of her husband and deputy chief minister Sukhbir Singh Badal.
Harsimrat declared her movable and immovable assets Rs 46.70 crore and Rs 61.44 crore respectively.  She had declared jewellery worth Rs 1.94 crore at the time of filing nominations for her first political battle five years ago, which has now jumped to Rs 5.41 crore.
Having no vehicle in her name, Harsimrat has shown her husband possessing two Massy tractors 2009 and 2011 model worth Rs 5.50 lakh.
The details show Harsimrat having a total annual income of Rs 3.11 crore, while her husband earns Rs 57.67 lakh from business activities and Rs 1.22 crore from Agriculture during last financial year.
She doesn't own any land or building or farm land in her name, while her husband possesses agricultural land, commercial and residential properties at various places including Chandigarh, Sirsa (Haryana), Ganganagar (Rajasthan).
Whereas Harsimrat does not have any liability, Sukhbir's financial record shows it to be of Rs 41.26 crore, including bank loans. Harsimrat has shown cash in hand worth Rs 91,127 while her husband has cash amounting to Rs 53,760.
She has declared investments in bonds and debentures worth Rs 98.15 lakh in her name and Rs 29.18 crore in her husband name.
She holds diploma in Textile designing from Delhi.