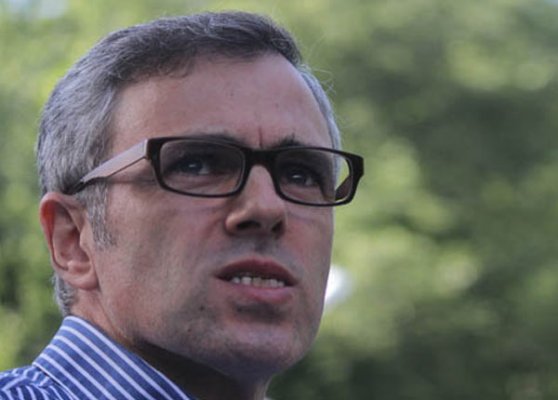 Jammu: Taking stock of the situation in border districts Rajouri and Poonch of flood ravaged Jammu and Kashmir, Chief Minister Omar Abdullah on has said the state government should carry out relief and rehabilitation work in a planned manner.
The Chief Minister, flanked by Minister of State for Home Sajjad Ahmed Kichloo, visited flood affected areas of tehsil Surankote and Haveli on Tuesday and conducted aerial survey along river Poonch to take stock of the havoc caused by the incessant rains and flash floods.
"We should learn from this disaster and rebuilt and rehabilitate in a planned manner," he said.
The Chief Minister held a public meeting at Dak Bungalow in Surankote assuring adequate compensation to flood victims and directed authorities to expedite the process of relief distribution and restoration of essential services.
Omar also surveyed the damage caused to Sher-e-Kashmir bridge and adjoining residential areas of Shanker Nagar that were washed away in the floods, besides ensuring adequate relief to the affected families.
He visited a relief camp run by the district administration at Gujjar and Bakerwal hostel and ascertained the status of their welfare.
He asked the DDC to ensure availability of food, blankets and other necessary items to more than 400 flood affected persons present there.
In Poonch district, Omar chaired a meeting of district officers during which District Development Commissioner MH Malik apprised him that at least 26 people have died while 65 people were injured in the flood affected areas.
The Chief Minister was informed that 20 bodies have been recovered so far from various locations along the course of the river.
He was apprised about the devastation caused in the villages due to landslides, including loss of property, crops, cattle and public infrastructure like roads, bridges, schools, water supply schemes and power installations.
Omar asked the legislators from the district to be available to the affected people.
He acknowledged the proactive and efficient handling of the crisis by the district administration and assured that rehabilitation and restoration process will be provided to all affected persons.
In Rajouri district, Omar visited the families of Nowshera bus accident victims and expressed condolences to the bereaved kin.
He also visited the flood victims lodged in Gurdwara and gave a patient hearing to their grievances while assuring all possible help.
Asking officers to work on war footing to restore the essential services and public utilities, Omar instructed the district administration to ensure proper rehabilitation of affected persons.
He asked the District Development Commissioner to project the demand for complete restoration of the damaged infrastructure and relief material like tents, blankets as there is no constraint of funds.
The Chief Minister was presented a memorandum of demands by the Sarpanch which mainly included employment to the next of kin of the Nowshera bus accident victims.