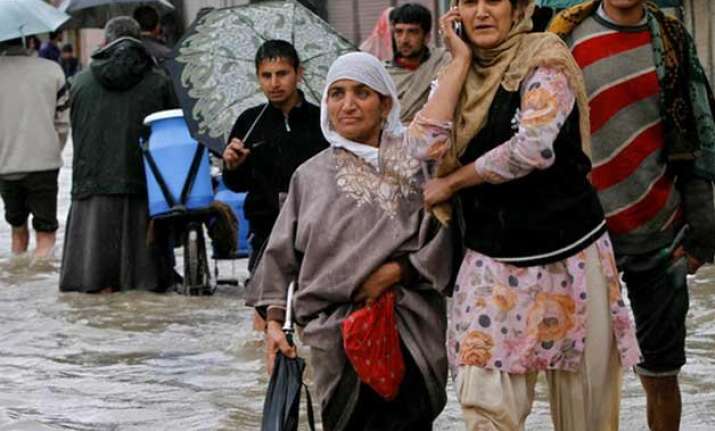 Srinagar: Jammu and Kashmir government has sounded flood alert after water level in the Jhelum river continued to rise due to incessant rains that lashed the Kashmir Valley for entire day on Sunday.
A government spokesman yesterday night said that people living on the banks of the river Jhelum have been asked to remain alert and vigilant. Old persons and children have also been advised to move to safer places or camps that have been established in the Valley.
ALSO READ: Avalanche warning issued in 7 districts of Kashmir
Officials today morning informed that Jhelum river has crossed danger mark in Srinagar and Sangam area of South Kashmir.
A senior official said water level of river Jhelum at 6 AM at Sangam (South Kashmir) and Ram Munshi Bagh (Srinagar city) has touched 22'.4 feet and 18'.8 feet respectively. Danger level at Sangam is 21 feet and at Ram Munshi Bagh it is 18 feet.
ALSO READ: Met department predicts wet weather for next 5 days
He said all the employees deployed for flood control duty have been asked to report to their duties immediately.
If the water level breaches 23 feet mark, the state will have to undertake a massive rescue operations and evacuate people from areas adjoining the river. 
Two NDRF teams comprising 100 personnel will be rushed to Jammu and Kashmir today as part of contingency measures in the wake of the flood alert in the state. The NDRF had played a vital role along other defence forces to undertake huge amount of relief and rescue operations last year when Kashmir Valley was inundated with waters in the worst-ever floods in the history of the state.
Meanwhile, authorities in Valley announced that all schools up to 8th class will be closed on March 30 and 31 in view of incessant rains that led to a flood-like situation. 
"Schools in Valley shall remain closed on March 30 and 31 due to bad weather conditions. The schools will re-open on Wednesday, April 01," an official said here.  
Also, all board and university examinations scheduled for Monday have been postponed.