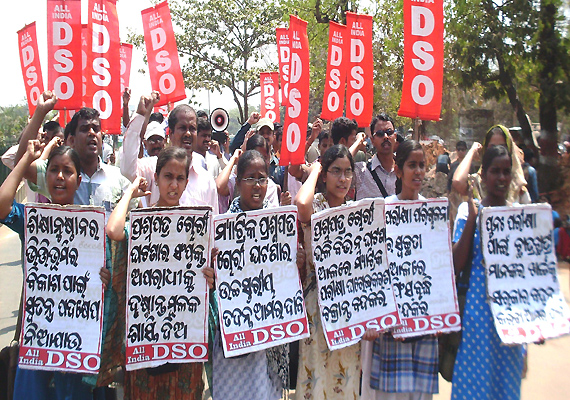 Bhubaneswar, Mar 23: A day after the high school certificate examiniation in Odisha was deferred  indefinitely after burglary of all sets of question papers from an exam centre, the state government today order a Crime Branch probe.
"The chief minister has ordered an inquiry by the crime branch of police into the incident involving theft of HSC Examination question papers," School and Mass Education Minister Pratap Jena informed the state assembly, even as Congress demanded chief minister Naveen Patnaik's resignation.  
Efforts would also be made to declare the results of the HSC examination by the end of June or first week of July.  
Over 4,67,000 regular candidates  had already given the MIL (Modern Indian Language) paper on Monday, but on Tuesday night, burglars sneaked into an examination centre in Puri district and stole the remaining sets of question papers for all seven subjects.
This forced the Board of Secondary Education to cancel the examinations for all subjects indefinitely, with officials saying, it could take 20 days and an additional cost of Rs 2 crore to reschedule the exams.  
Four persons, the Superintendent of the exam centre, the deputy superintendent and two peons Patit Paban chand and Rohit Bhoi have been suspended after the theft came to light.
The question papers had been kept in the iron safe of the headmaster of Bhagabati Vidya Peeth in Bajpur under Kakatpur block of Puri district, without any security guards.
The two peons, who slept inside the school on Tuesday night, woke up the next morning to find the door and iron safe broken, and the question papers missing.  
The question papers in A, B, C sets related to seven subjects, and was meant for distribution to 339 candidates.
As a result of postponement of Board exams, a female student of Chakradharpur High School in SIngiri of Kendrapara district poured kerosene on her body in a bid to commit suicide. She is presently in critical condition in SCB Medical College, Cuttack.
The incident has triggered state-wide outcry with intellectuals and academicians describing it as a "shameful" incident.  
"We are now working on to fix the new dates of the examinations and are thinking of to do away with the practice of giving a day break between the papers", BSE Secretary N R Mohapatra said.
BSE president Satyakam Mishra inspected the exam centre on Wednesday and ordered indefinite postponement of the HSC exam.  
The BSE authorities said that examinations for ex-regular and Madhyama candidates would be conducted as per the original schedule while a decision about the regular examination would be taken at the earliest.
Odisha board results for HSC had been below 60 per cent on average for the last ten years, academicians point out.
During the past several years, there have been instances of fudging with Top Ten list, pass students getting marksheets showing they had failed, 'centre fixing' and moreover, a minister's son procuring a fake Board marksheet.