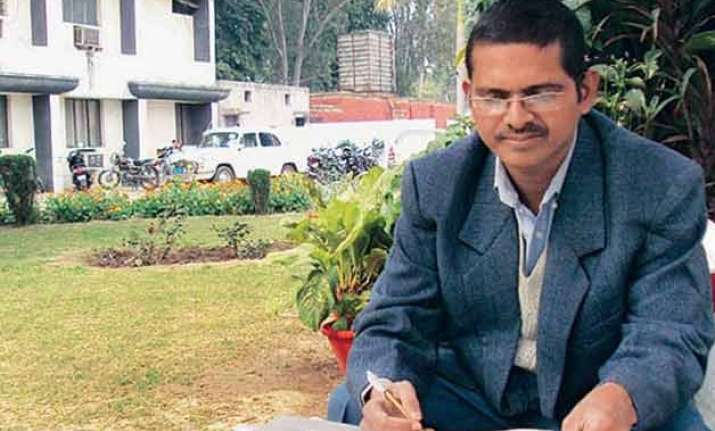 Lucknow: A case of rape has been registered against UP IPS officer Amitabh Thakur, a day after he filed a police complaint against Samajwadi Party supremeo Mulayam Singh Yadav.
A woman had given a written complaint against Thakur in Lucknow's Gomtinagar police station on December 31, 2014 but the FIR was registered against Thakur and his wife Nutan late on Saturday night.
A Ghaziabad-based woman last year had accused Thakur of raping her and his wife of helping him in the act, said station officer of Gomtinagar police station SM Abbas.
The complaint was made to then Lucknow SSP Yashyasvi Yadav but was not converted into an FIR till now.
Yesterday, Thakur filed a complaint with the police against Mulayam Singh Yadav, alleging that the Samajwadi Party chief threatened him with dire consequences if he does not mend his ways.
According to the wife of IPS officer Amitabh Thakur, the provocation behind the threat could have been the FIR lodged by her against state Mines minister Gayatri Prajapati.
Thakur, who has been assisting his wife and RTI activist Nutan Thakur in raising social issues, released an audio tape yesterday purportedly containing the voice of the SP chief.
"I felt I should take a stand. Therefore, I gave a complaint against SP supremo Mulayam Singh Yadav," Thakur, IG Civil Defence, told PTI.
"At around 4.45 pm, a phone came from Mulayam Singh's residence and he talked to me. He told me that whatever had happened in Jasrana, Firozabad, where I had been assaulted by one of his relative and an MLA in 2006, much harsher things will happen to me if I don't 'mend my ways'," Thakur said yesterday.
Senior Superintendent of Police, Lucknow, Rajesh Pandey said the matter will be probed to find out the genuineness of the audio tape released by Thakur.
Nutan, who is an RTI activist, claimed that when her husband went to Hazratganj police station to lodge an FIR, SHO Vijaymal Yadav refused him.
But, on the IPS officer's insistence, he received a copy of the complaint and said the matter will be inquired.