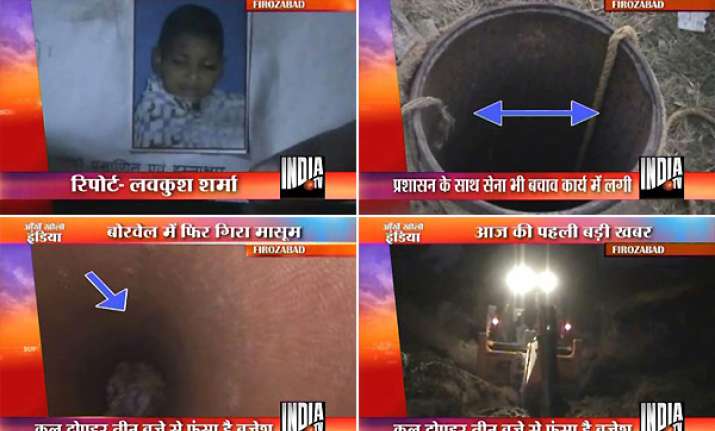 Firozabad, UP, Nov 13: Rescue efforts are on to save a five-year-old boy Brajesh who fell into a 200-feet deep borewell near Sirsaganj on Saturday at around 3 pm. A parallel hole 70 feet deep had been dug till Sunday noon to reach up to the boy.

12 JCB machines are engaged in digging work.

The child's cries were heard for two hours after the mishap, but since then no sound had yet emanated from the borewell. A cctv camera inserted inside the borewell failed to give clear pictures.

Army jawans have been brought in for rescue operations.

The borewell was dug by the lift irrigation department staff and later abandoned. The staff had put a jute bag on top of the well.

As Brajesh sat on the jute bag while playing in the fields, he suddenly dropped inside to a depth of nearly 100 feet.

A pipe providing oxygen has been inserted inside the borewell, while a parallel hole is being dug to rescue the kid.

The district administration has suspended the junior engineer, an operator and a mistri for leaving the dug borewell uncovered.