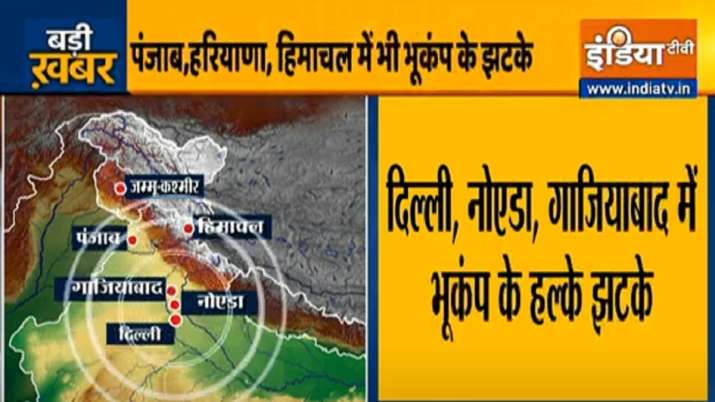 An earthquake of magnitude 6.3 hit Tajikistan while strong tremors were felt in Delhi-NCR, Punjab's Amritsar, Jammu and Kashmir, Himachal Pradesh, Haryana and Uttar Pradesh for several seconds on Friday night. Initial reports said a 6.1 earthquake had also occurred in Amritsar, however, the National Centre for Seismology has informed that there was no epicentre of the quake in Amritsar. So far, no reports of any damage have surfaced.
Earthquake hits Tajikistan, strong tremors felt in Delhi-NCR, north India | Updates
The National Centre for Seismology (NCS) under the Ministry of Earth Sciences said that an earthquake measuring 6.3 on the Richter Scale hit Tajikistan, the tremors of which were also felt in Delhi and other parts of north India.
The earthquake struck the Central Asian country at 10:31 pm on Friday. The tremors were felt for more than 30 seconds in the national capital and its surrounding regions.
No reports of any damage so far have surfaced from Amritsar or other parts of Punjab following the earthquake. Top officials of Punjab Police and local administration are keeping a close watch on the situation, Punjab CM Captain Amarinder Singh said.
Sharing his experience, Jammu Kashmir National Conference's Vice President Omar Abdullah said, "Not since the earthquake of 2005 have the tremors in Srinagar been bad enough to force me out of the house. I grabbed a blanket & ran. I didn't remember to take my phone & so was unable to tweet "earthquake" while the damn ground was shaking."
People in Delhi also said that they wanted to wait outside their homes for some time as a precautionary measure if in case any aftershocks occur.
Speaking to India TV, people in Himachal Bhawan in Delhi felt tremors for nearly 30-40 seconds. They rushed towards an open area as soon as they realised it was an earthquake, people said who were present in the Himachal Bhawan.
Notably, the Ministry of Earth Sciences changed the data twice prior to mentioning Tajikistan as the epicentre. Minutes after the tremors were felt in India, the NCS showed the magnitude to be 7.5 and its epicentre 35 km from Srinagar in Jammu and Kashmir.
Pursuant to this, the NCS website changed it to 6.1 magnitude, 18 km from Amritsar district in Punjab. Finally, the ministry clarified that the actual epicentre was in Tajikistan.
Contrary to India's data, the United States Geological Survey, the scientific agency of the US government, showed that the earthquake was of 5.9 magnitude and hit 35 km west of Murghob in Tajikistan.
The Delhi-NCR region is very peculiar with regard to seismic activities. It has several faultlines that generate earthquakes, but it also feels the impact of quakes that are epicentred as far as the Hindukush mountains in Afghanistan and even in Nepal.
The national capital falls under seismic zone IV - a very high-risk zone. India is divided into four seismic zones — II, III, IV and V -- according to the increasing intensity and frequency of earthquakes.
(With inputs from PTI, IANS)
ALSO READ | 4 dead, 13 injured as bus falls into gorge in Andhra Pradesh