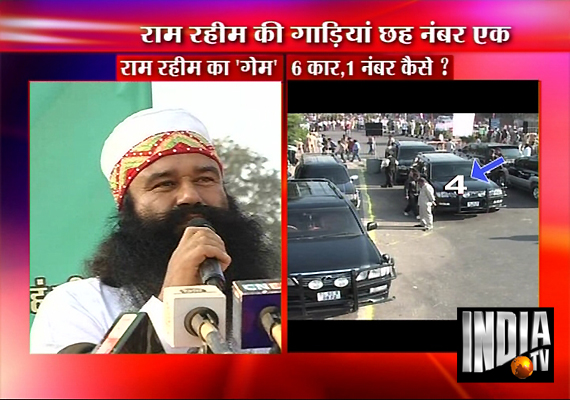 Jaipur, Nov 1: As nearly one lakh supporters of Dera Saccha Sauda carried out a citywide cleaning operation in Jaipur on Tuesday led by their chief Guru Ram Rahim Insaan, the mediapersons present noticed that the guru had six Lexus vehicles, all black, carrying the same number plates for his security.

The number plate DL 5C B 3672 was on all the six Lexus vehicles. All the vehicles are registered in the name of Jindal Steel and Power Ltd, reports said.

Guru Ram Rahim told mediapersons that his supporters had earlier carried out a similar cleaning operation in Delhi.

A Delhi Police official said that the owner of the vehicles could be booked for cheating if the case is brought to the notice of police.
Jindal Power And Steel Ltd clarified that all the six Lexus vehicles were sold  nearly two years ago to dealer through auction and the company has nothing to do with all the six vehicles any more.
 
Dera Sachha Sauda spokesperson Pawan Insaan said that the six vehicles were being used as a security measure because the  baba was attacked several times in the past, including the attack in Karnal.

Pawan Insaan said, Dera Sachha Sauda will continue to follow all rules and if a single number plate was found to be used for all six vehicles, then the same would be rectified.

Delhi Additional Commissioner of Police (Traffic) Satyendra Garg said, purchasing six vehicles with a single number was impossible given the checks and balances at the Transport Authority. "It could be that someboday has been using a single number plate for all vehicles which is illegal. We will take action if it is brought to our notice."

Dera sources said, all the six vehicles of same make and same numerplate were being used in order to protect the guru Ram Rahim Insaan.
 
A black covering is put everytime Guru Ram Rahim enters any of the six vehicles, to keep any possible attackers on the wrong foot.