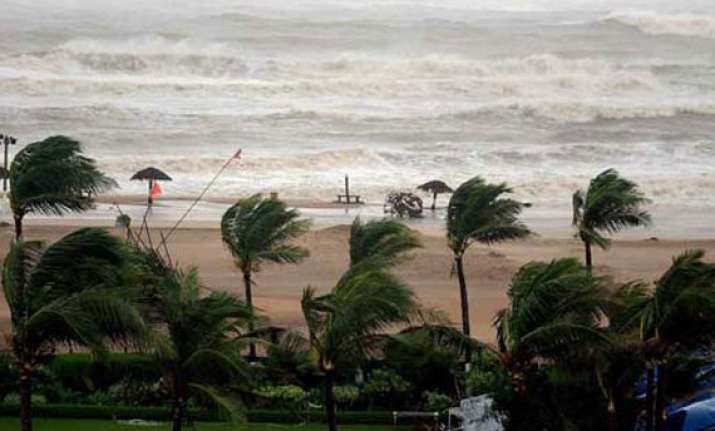 Bhubaneshwar/Hyderabad:  Cyclone Hudhud has strengthened furthermore and is moving with great velocity towards the eastern coast of India. As the NDRF and other forces have prepared themselves for the dreaded cyclone, more and more people are being evacuated. India Meteorological Department (IMD) has estimated the cyclone to make landfall near Andhra Pradesh Vishakhapatnam coast in the Andhra Pradesh on Sunday afternoon while Odisha coast will also be severely affected.
The state governments have taken the necessary measures to ensure minimum damage to people and property.
Just 48 hours before Hudhud is scheduled to make landfall in Odisha, a mock drill has been carried out at a cyclone shelter in Gopalpur. The drill has been undertaken at 340 other shelters in the state.
A resident told a news channel, "I am glad that the government is organising this. Of course, we are scared but we will have to take precautionary measures. Hopefully, we'll all be safe."
Thirty-nine NDRF teams and 12 teams of the state Disaster Rapid Action Force have been deployed in 10 districts of Odisha. There is a very real threat of flash floods as extremely heavy rain is expected.
GK Pathak, the NDRF team commander, said, "We are prepared for flood too as this is likely to happen."
Evacuation will start in Visakhapatnam on Sunday, where the cyclone is expected to make landfall. Around 75,000 people living in 50 villages will be affected. Schools and industrial units have been advised to remain shut to minimise road traffic. Fishermen have been warned not to go out to sea.
Yuvraj, Vizag District Collector, said, "The speed can go upto 180 kmph. 35,000 people have to be evacuated tomorrow. 40 relief centres have been made."