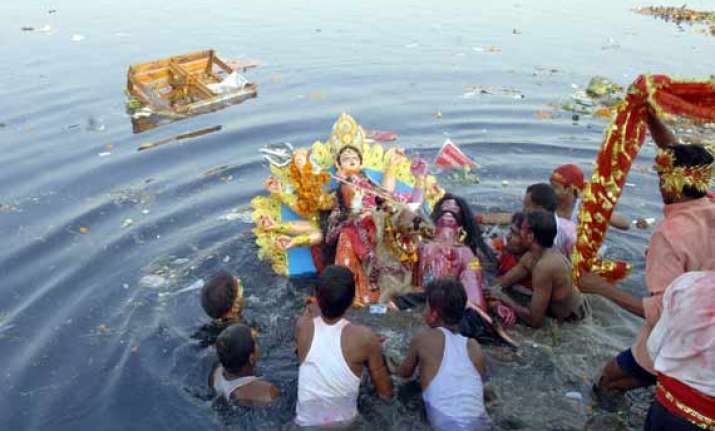 Kolkata: Durga Puja today ended with the immersion of idols on Dashami amidst chants of 'aasche bochchor abar hobe' (it will happen again next year).  At the onset of dawn, Goddess Durga left for her abode in Kailash at the end of her three-day sojourn on earth, as against usual four-day, with the Navami and Dashami falling on the same day.
As if to make up for the loss of one day of festivity and revelry, people thronged the puja pandals in thousands, braving a shower in the afternoon.
Women smeared vermilion on each other's faces in a ritual called 'sindoor khela' and offered sweets and prayers to Goddess Durga and her siblings as the young swayed merrily to the rhythmic beats of 'dhaks'.
People of all ages exchanged greetings with each other on the occasion of 'Bijoya'.
Household puja idols made their way to the banks of the river Hooghly today while the big community puja idols are slated for immersion either tomorrow or on October six.  There would be no immersion day after tomorrow in view of Bakri Id.
Many foreigners were seen clicking pictures of the immersion to take the memories back home.  Besides police officials, personnel from state civil defence, civic body officials, Kolkata Port Trust and River Traffic Police assisted in the immersion process while speed boats of India Navy kept a watch.