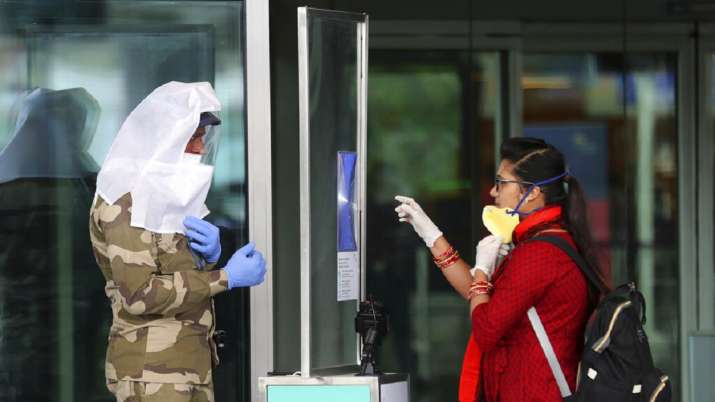 India coronavirus cases have crossed 2.36 lakh mark taking positive patients toll to 2,36,657 including 1,15,942 active cases, 1,14,073 recovered and 6,642 deaths, according to health ministry's figures released on Saturday. In the past 24 hours, the country has witnessed a spike of 9,887 new COVID-19 cases ad 294 deaths.
On Friday, Maharashtra recorded a staggering new high of 139 Covid-19 deaths on Friday, while Mumbai's total fatalities crossed the 1,500 mark, health officials said. The state recorded its highest single-day death figure on Friday, making it the third time in June and the sixth time in 10 days that it has witnessed a 100-plus toll.
The previous highs of three-digit tallies were in the past three days - 103 on June 2, 122 on June 3, 123 on June 4. The latest toll includes 93 deaths in the Mumbai Metropolitan Region alone - the worst-hit in the country, besides 2,436 new positive cases across the state.
This comes to roughly one death every 10 minutes, and an average of 101 new cases notched every hour in the state. Maharashtra has been recording 75-plus fatalities and over 2,000 cases daily for the past 11 consecutive days, with the previous highest figure of 3,041 infections notched on May 24.
State-wise list of COVID-19 cases, deaths in India
| Name of State / UT | Active Cases* | Cured | Deaths** | Total Confirmed cases* |
| --- | --- | --- | --- | --- |
| Andaman and Nicobar Islands | 0 | 33 | 0 | 33 |
| Andhra Pradesh | 1654 | 2576 | 73 | 4303 |
| Arunachal Pradesh | 44 | 1 | 0 | 45 |
| Assam | 1651 | 498 | 4 | 2153 |
| Bihar | 2342 | 2225 | 29 | 4596 |
| Chandigarh | 77 | 222 | 5 | 304 |
| Chhattisgarh | 633 | 244 | 2 | 879 |
| Dadar Nagar Haveli | 13 | 1 | 0 | 14 |
| Delhi | 15311 | 10315 | 708 | 26334 |
| Goa | 131 | 65 | 0 | 196 |
| Gujarat | 4901 | 13003 | 1190 | 19094 |
| Haryana | 1439 | 2134 | 24 | 3597 |
| Himachal Pradesh | 199 | 189 | 5 | 393 |
| Jammu and Kashmir | 2202 | 1086 | 36 | 3324 |
| Jharkhand | 464 | 410 | 7 | 881 |
| Karnataka | 3090 | 1688 | 57 | 4835 |
| Kerala | 973 | 712 | 14 | 1699 |
| Ladakh | 48 | 48 | 1 | 97 |
| Madhya Pradesh | 2734 | 5878 | 384 | 8996 |
| Maharashtra | 42224 | 35156 | 2849 | 80229 |
| Manipur | 91 | 41 | 0 | 132 |
| Meghalaya | 19 | 13 | 1 | 33 |
| Mizoram | 21 | 1 | 0 | 22 |
| Nagaland | 94 | 0 | 0 | 94 |
| Odisha | 996 | 1604 | 8 | 2608 |
| Puducherry | 63 | 36 | 0 | 99 |
| Punjab | 344 | 2069 | 48 | 2461 |
| Rajasthan | 2507 | 7359 | 218 | 10084 |
| Sikkim | 3 | 0 | 0 | 3 |
| Tamil Nadu | 12700 | 15762 | 232 | 28694 |
| Telengana | 1550 | 1627 | 113 | 3290 |
| Tripura | 519 | 173 | 0 | 692 |
| Uttarakhand | 860 | 344 | 11 | 1215 |
| Uttar Pradesh | 3828 | 5648 | 257 | 9733 |
| West Bengal | 4025 | 2912 | 366 | 7303 |
| Cases being reassigned to states | 8192 |   |   | 8192 |
| Total# | 115942 | 114073 | 6642 | 236657 |
ALSO READ | Coronavirus cases worldwide cross 6.8 million mark; death toll at 3,98,071
ALSO READ | WHO recommends wider use of face masks to curb COVID-19