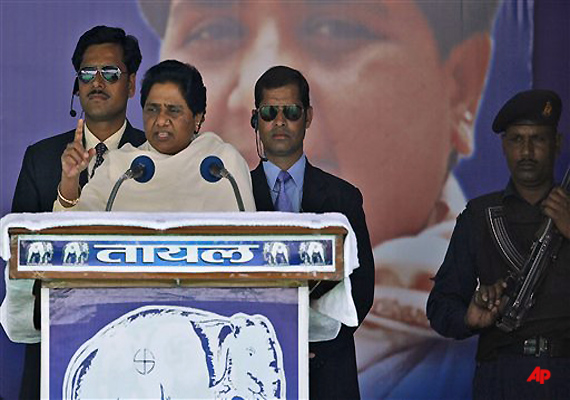 Meerut, Feb 25: Alleging that Congress leaders are shedding "crocodile tears" over the Batla house encounter to woo the Muslim community, BSP supremo Mayawati today said the party's concern for the community stands exposed by the Sachar committee.

"The reality of Congress leaders who shed crocodile tears over the plight of Muslims has been revealed by the Sachar committee.

"Despite all this, Congress leaders are not tiring of creating drama over the Batla house encounter," the Uttar Pradesh Chief Minister alleged.

While attacking Opposition Samajwadi Party Mayawati said that the state will see "jungle raj" and reign of "mafias" and "goondas" if the party comes to power.

"If the Samajwadi Party comes to power, then the state will once again see the rule of goondas and mafias. Jungle Raj will be established," she alleged at an election rally here.

"It will be difficult for women to venture out of their homes alone," she claimed.

Targeting the Congress, Mayawati alleged that if the party, which is "hungry" to form a government in UP for last 22 years, comes to power then "small business will cease to exist as they will be given to foreign companies as per the FDI policy and the poor and unemployed will be forced to migrate to other states."

Mayawati also said that "communal forces will be strengthened" if BJP forms the next government.

BJP, SP and the Congress have "already accepted defeat" in the elections, she said.

On the NRHM scam, she said that the probe into it had picked up in the last 2-3 days, while claiming that the state government had nothing to do with it as this was a Central scheme.

The Centre has not responded to the proposal of the division of the state, for which she has written many letters to them, Mayawati alleged, while adding that the same was the case for reservation of Jats.

Talking about the Central funds, Mayawati said that while disbursing funds the Centre was behaving as if it was its own money not the constitutional rights of the state.

On sugarcane, she said the government has increased the price of the crop from Rs 125 to Rs 250 per quintal in the past 5 years and had got the due payment of Rs 2,600 crore from sugar mills to its farmers.

She also claimed that various projects in the state were lying incomplete due to lack of Central funds, however, Congress leaders were blaming her government for the lack of development in the state.