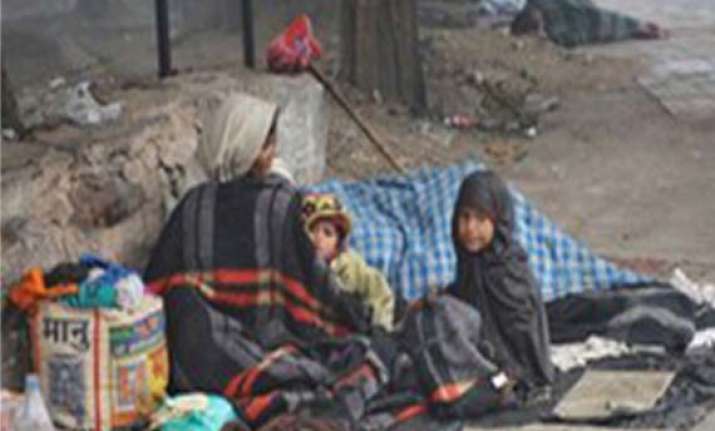 New Delhi,Dec 30: Seven more persons fell prey to biting cold wave in UP where death toll due to the harsh weather touched 69 today, while most other parts of North India also shivered and fog disrupted rail and air traffic.
The National capital had a gloomy weather as the fog returned after four days, and the maximum temperature was recorded at 17 degree Celsius, a drop of four notches. The minimum was recorded at 7.7 deg C.
The fog also affected the schedule of about 50 flights, according to airport sources.
However, the meteorological department on Sunday forecasted a clear sky with mist in the morning for tomorrow.
In Uttar Pradesh, severe cold wave claimed seven more lives pushing the death toll this winter to 69.
Two people died in Barabanki district and one each in Gonda, Deoria, Ballia, Banda, and Hamirpur districts.
Maximum temperature continued to be below normal by 6 to 11 deg C in parts of the state and the lowest minimum temperature was 0.7 deg C at Lucknow airport.
Normal life in most parts of Punjab and Haryana was crippled due to the fog, which threw rail and road traffic out of gear. However, minimum temperature in the region rose due to cloudy sky.
While most of the flights from Chandigarh airport were cancelled or re-scheduled, several trains criss-crossing the region were running hours behind the schedule due to low visibility.
Hisar was the coldest place in the plains of Punjab and Haryana with a low of 2.2 deg C, four notches below normal.
Mercury plummeted in northern parts of Rajasthan with Shri Ganganagar freezing at a low of 0.6 deg C, 4 degrees below normal.
Himachal Pradesh remained under the grip of cold wave as night temperatures dropped by one to three notches.
Keylong in tribal Lahaul and Spiti district and Kalpa in adjoining tribal district of Kinnaur recorded minimum temperatures at minus 7.6 degree and minus 3.8 degrees respectively.
Tourist resort Manali reeled under severe cold with mercury dipping to minus 1.5 deg C and Solan, Bhuntar and Sundernagar recording a low of 0.2 deg C, 1.0 deg C and 1.7 deg C, three degree below normal.
The high altitude areas of the state reeled under arctic conditions with minimum temperature staying between minus 10 and minus 18 degree Celsius.
All natural sources of water like lakes, springs, rivulets and large stretch of the Chandrabhaga river in Spiti were frozen for the past three weeks, causing sharp fall in discharge of water in snow-fed Sutlej, Ravi and Beas Rivers.
The power generation in hydropower projects has also gone down sharply.