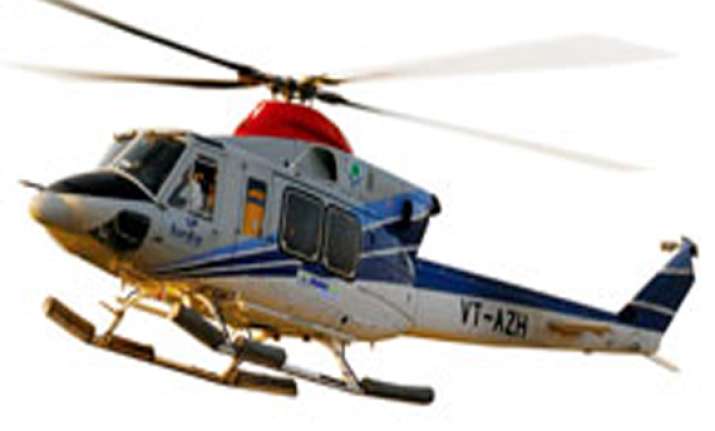 Mumbai, Oct 9: The 'mysterious' helicopter that landed in Ratnagiri on Saturday afternoon and suddenly took off belonged to Global Vectra Helicorp, a company belonging to the Vectra group that provides offshore helicopter services to the oil and gas sector, official said on Sunday.

The chopper had landed because of a suspected technical fault. It was on its way from Belgaum to Juhu, Mumbai when the snag took place.The sudden landing of the chopper created a scare among residents and local administration, which promptly  began a probe into the circumstances of landing. The white-coloured helicopter landed at the sea shore near a village in coastal Maharashtra and flew off minutes later.

" We informed all the ATCs (Air Traffic Control) in the area," police officials at the State Police Headquarters said on sunday night.

Ratnagiri Superintendent of Police Pradeep Raskar said, "According to Police Patil Prakash Babu Vaghje of Harne Palde village here, a white helicopter landed on the sea shore in the sand, slightly far away from the village at (4.30 p.m.) today [Saturday]. He said that two persons came out of the chopper, strolled out, and flew back after 17 minutes. The helicopter flew back towards Anjarle in Raigad district."

Raskar denied reports that two persons disappeared in the forest after getting down from the copter. "It is not true. According to what the Police Patil saw, the two persons went back to the chopper and flew away," he said.He said that the policeman immediately informed his police station, which in turn informed the higher officials. 

"He informed the police station immediately, but by the time the police arrived, the copter had vanished," he said."We are in contact with ATC Goa, ATC Mumbai, ATC Kolhapur",  Raskar said.