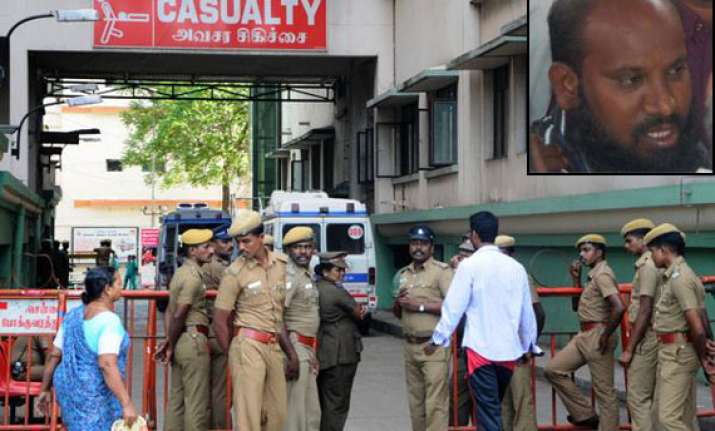 Chennai: Exactly a week after being hit by a bullet in a police operation to nab him, Panna Ismail, a key accused in the 2011 Advani pipe bomb case, had it removed yesterday by doctors at a hospital here.
The bullet was removed from the posterior wall of his abdomen and his health condition is better now, a senior surgeon at Rajiv Gandhi Government General Hospital said.
The decision to remove the bullet was delayed as his health condition was assessed to be frail to sustain the surgery, he said. "Now, he is better. He is on IV (Intravenous Fluids) and antibiotics."
Bilal Malik and Panna Ismail were arrested on Oct 5 from their hideout at Puttur on the Andhra Pradesh-Tamil Nadu border after a 11-hour operation, a day after the arrest of their associate 'Police' Fakruddin.
Ismail's wife had filed a habeas corpus petition in the Madras High Court for a direction to RGGGH to provide proper medical treatment to her husband, besides seeking permission to stay with him in the hospital till his discharge.
The court later adjourned the habeas corpus plea to Oct 25. While Panna Ismail has been in hospital since his arrest, 'Police' Fakruddin and Bilak Malik are in police custody.