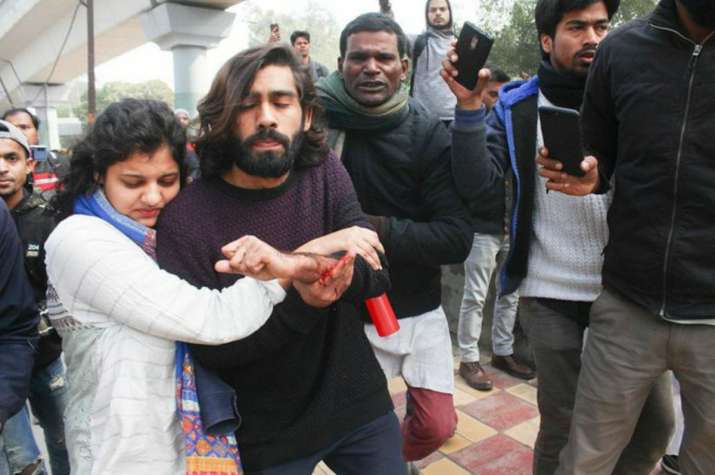 A protest against new Citizenship (Amendment) Act on Thursday hit the headlines in Delhi's Jamia Nagar after a man armed with a country-made pistol opened fire at the gathering shouting "Azadi Chahiye, yeh Loh azadi." The attacker was identified as being a resident of Jewar in Greater Noida. He opened fire at protestors injuring one person. According to eyewitnesses, the person who had opened fire had chanted pro-Delhi Police and anti-Jamia slogans. He also shouted "Main Deta Hoon Azaadi" (I will give you freedom) as he opened fire. The injured person in the incident was shot in the hand and was identified as a student of Jamia Millia Islamia. He was rushed to a hospital immediately. 
#WATCH A man brandishes gun in Jamia area of Delhi, culprit has been detained by police. More details awaited. pic.twitter.com/rAeLl6iLd4

January 30, 2020
Firing took place at 1.10 pm at Jamia
#WATCH Delhi: Protest continues near Jamia Millia Islamia University, against #CitizenshipAmendmentAct and National Register of Citizens (NRC). pic.twitter.com/EbJz39DmP3

— ANI (@ANI) January 30, 2020
Also Read: 'Azadi chahiye, yeh loh azadi', he said before firing bullets: Jamia eyewitness narrates
The Jamia shooter's Facebook page is filled with messages of revenge and hate. In one such cryptic message,l (his  Facebook name) says, "Carry me in a saffron cloth during my last journey". 
Three metro stations--Jama Masjid, Delhi Gate and ITO were closed in the immediate aftermath of the firing incident
Jamia Coordination Committee (JCC) had organised a march against Citizenship Amendment Act (CAA) and National Register of Citizens (NRC), from Jamia to Raj Ghat.
The accused has been arrested. Police are also investigating, as to how, the accused, made his way through the protest march with a pistol. 
The Delhi Police had denied permission to take out the anti-CAA protest march from Jamia Millia Islamia to Rajghat. After the women protesters announced their proposed march, Delhi Police were alerted to the plan. 
Police had conveyed to the march's organisers in clear terms that permission would not be granted due to fears over law and order.
Also Read | Jamia violence: Delhi Police releases photos of 70 people involved in anti-CAA protests
Also Read | UP Police detains men from Lucknow's Clock Tower for anti-CAA protests
Watch | Jamia firing: Happened in split of second, police couldn't react, says Special Commissioner