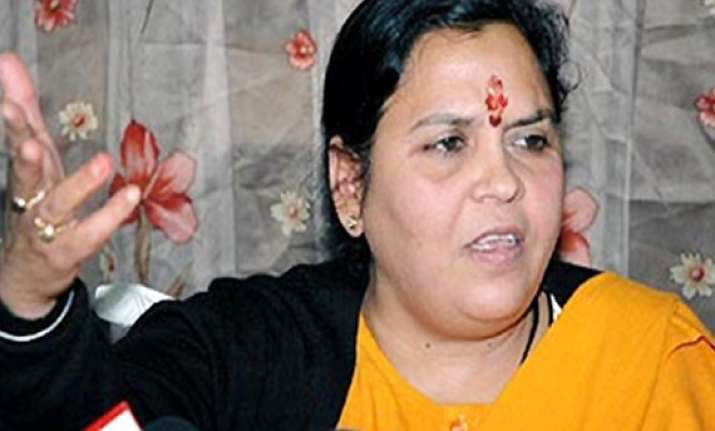 New Delhi, Jan 11: Terming religion-based quota for Muslims as a "dirty gameplan" of the Congress to divide the nation again, BJP today said it will oppose any such move by launching a nation-wide mass movement and exposing the "dirty face" of its rival party.

"The nation is on the verge of another partition - this time an ideological partition. The BJP will not allow any such partition on the basis of religion," said BJP leader Uma Bharti.

Charging the Congress with playing "dirty politics" for petty political gains in Uttar Pradesh, the BJP leader said, "The sole purpose behind this dirty politics is the OBC vote bank and the target is Uttar Pradesh."

She said the BJP will launch a countrywide "Jan Andolan" (mass movement) from the streets to Parliament to expose the "dirty face" of the Congress.

"I will myself come forward in opposing the move for religion-based reservation, as it poses a threat to the nation's unity and integrity," she said.

She added that the Congress party was trying to play such dirty politics merely to increase its votes by one or two per cent in one state.

Bharti also accused the Congress of having a "bigoted mentality" illustrated by its proposal for "religion-based reservation" ahead of the Uttar Pradesh assembly polls, as it could not tolerate anyone opposing it.

The former Madhya Pradesh chief minister also urged the "so-called" leaders of OBCs and dalits, besides also Muslim leaders to oppose religion-based reservation.

Bharti said the BJP will also talk to Muslim leaders asking them not to support the move as religion-based reservation went against the basic tenets of Islam.

"Islam is based on the primary principle of universal brotherhood. It does not accept reservation. Caste inequality has been a part of the Hindu society," Bharti said.