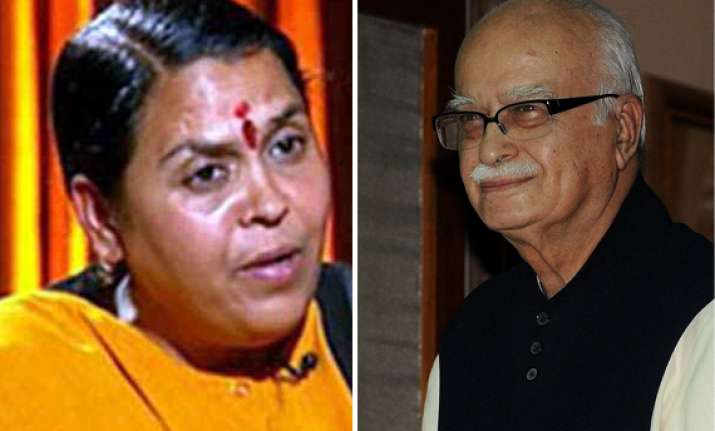 Varanasi, Oct 13: Batting for L K Advani as BJP's prime ministerial candidate, party leader Uma Bharti today claimed that he is the "most capable person" to lead the country in the present situation.

Welcoming Advani's yatra here, Bharti said that in the past Vishwanath Pratap Singh had raised the issue of corruption in Bofors and had gone on to become the Prime Minister.

"Advani ji is the most capable person to lead the country in the present situation," she said.

Bharati added that though Advani would turn 84 in November, he "retained the enthusiasm of a twelve-year-old". 

"Corruption is a big challenge and anyone who has come to Kashi to raise this issue hadsnot only managed to bring down governments but also gone on to become the prime minister," Bharti said while Advani sat on the dais. 

Referring to herself as "Advani's daughter", Bharti said that she had argued with Advani when at a BJP convention in Mumbai, Advani had proposed Atal Bihari Vajpayee's name as the BJP's prime ministerial choice.

Advani, she said, had taken that decision to uphold the wishes of the people.

The former BJP chief, who till now has maintained that the yatra has nothing to do with the race for prime ministership, in his speech after Bharti said that the yatra was not about him.

"I have been asked whether I am trying an image make over.  This yatra is not about me or even about BJP," Advani said, adding the issues of corruption and black money were the focus of his yatra.

BJP leader Murli Manohar Joshi said Congress governments tried to "suppress facts related to corruption when anybody tried to bring them out".

From Varanasi, the 'Jan Swabhiman' yatra led by state BJP leader Kalraj Mishra was also launched.