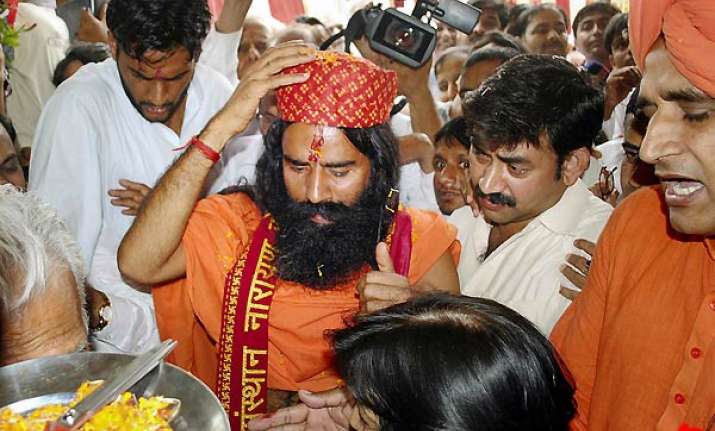 New Delhi, June 3 : It was a sea of saffron at the historic Ramlila Maidan here this morning as a large number of supporters of Baba Ramdev started pouring in from across the country carrying flags and festoons to join the yoga guru's proposed indefinite hunger strike against corruption from tomorrow.

A huge 2.5 lakh square ft tent has been erected here for the demonstrators while tight security arrangements are in place for preventing any untoward incident.

The Baba's followers, including a large number of women, were seen entering the site carrying their luggage. The organisers have put up state-wise counters for registering the supporters who are being provided identity cards.

A battery of mediapersons are at the ground. Decorators were giving the finishing touches to the saffron-and-white pandals. It was saffron all around with flags and festoons aplenty and the bearded face of the Baba on every poster and banner put up at the site.

Some people were seen sleeping on the mattresses while some were taking bath in the open. More than 5,000 ceiling fans and coolers, 1,300 toilets and bathrooms have been installed at the site.

An eight ft long stage has been set up for the yoga guru from where he will instruct his followers. Large screens alongside the stage have also been installed.

The sitting area near the stage is being divided into three parts—one for those who will sit for fast for a single day, one for those who will sit for the entire duration and one more for daily visitors.