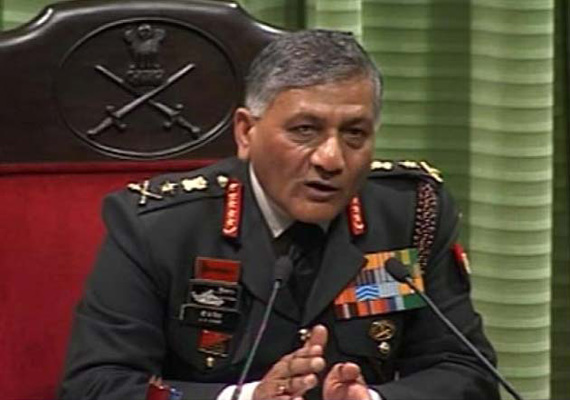 New Delhi, Feb 10: Army Chief Gen V K Singh today lost his legal battle on the age row in the Supreme Court which said the government decision on his date of birth will apply for his service matters, forcing him to withdraw his petition.

The apex court told Gen Singh that he cannot resile on his commitment that he would abide by the government decision to treat his date of birth as May 10, 1950 and rejected the contention of "prejudice" and "perversity".

During the three-hour long proceedings, the apex court applauded his 38 years of service to the nation, saying that it was "proud" of having "meritorious" officer like Gen Singh and wanted to ensure that he continues to work and lead as the Chief of 13-lakh strong army.

The court said that government decision on his age issue will continue to be there and refused to interfere with his service record which maintains his date of birth as May 10, 1950. According to this, he will retire on May 31 this year.

The arguments of Gen Singh, who had approached the apex court on January 16 for upholding his "honour and integrity", was a mix of legal points and emotions.

He submitted that if the government was willing to accept his date of birth as May 10,1951, he would resign within 48 hours but it did not cut much ice with the court which said it was "not concerned with determining his age" and his plea was only for recognition of his date of birth.

On its part, Government withdrew its December 30, 2011 order rejecting his statutory complaint, and told the bench it has "full faith and confidence" in the Army Chief.

Attorney General G E Vahanvati told a bench comprising justices R M Lodha and H L Gokhale that Government was not questioning Gen Singh's "integrity" or "bonafide".

During the hearing, the bench said "You left it to the authority to take final call and you said you will abide by it. The committment must be honoured even if it is not your actual date of birth".

"Ultimately they are civilian authority and you have to accept," it further said.

The bench said "no prejudice" was done to Gen Singh and there was "no pervasity" or gross error in recognising his date of birth as May 10, 1950.

"The recognition of your date of birth did not suffer from any pervesity. Prima Facie there is no pervesity. In good sense we want to know from you whether you want to withdraw your petition".

"We have examined the entire record. No prejudice was done to you. Government has full faith in you.It is not a question of determining the date of birth. How does it help you".

The Bench said Gen Singh's "writ petition was not for determination of date of birth but for recognition of date of birth".

"This is for recognition of date of birth in service record. Unless it is perverse and grossly erroneous, there is no scope of entertaining the petition by this court," the bench said.

Gen Singh's counsel Puneet Bali later told reporters that it was a victory for both side a the matter has been resolved "gracefully and amicably". He said Army Chief's petition was not for extension of service but a matter of "honour and integrity".

Before taking a break of 10 minutes, the Bench said Gen Singh has options, either he withdraws the petition or the court would pass the order after hearing him.

It made it very clear that in any case the court's order should not come in the way of his committment to the nation as he has been serving for 38 years.

"Wise people are those who move with the winds," the bench observed.

When the bench gave the option of withdrawing the petition, senior advocate U U Lalit, appearing for Singh, said he can say so many things but was restraining himself. At this, the bench said, "If dirty linen is to be washed let that stink come out. You can argue. You can wash. You can wash".

"Till now both the parties have shown restraint and remained dignified," the bench further said.

Lalit subsequently withdrew the petition.

The bench made it clear that its order on date of birth of May 10, 1950 would apply for service purpose and did not want to go into his age in civilian records as there was no challenge from any quarter to the date of birth mentioned in his matriculation certificate as May 10, 1951.

The court said that after leaving it to the Government to decide his date of birth, Gen Singh at the "pinnacle of his career" chose to raise the issue when as an army officer he has achieved what any army person "aspires".

The bench noted that three promotions were given to Gen Singh on the basis of the date of birth in 1950. "We have to hear the case within the four corners of judicial review," it said.

The court said three letters written by Gen Singh between 2008 and 2009 to the Army Headquarters reflected that he had left it to the Government to decide the issue.

"Why at this stage, at the pinnacle of your career this controversy? You hold such a high position. We have faith in system and we have faith in you".

"With all pains in your heart, that date of birth was not corrected and constantly taken as 1950. Undoubtedly, the decision was left at the hands of government authorities.

"This was well thought, well deliberated and you have respected your committment repeatedly. "You got what a man in Army aspires to get. Then why all this".

"Why do you want to get out of this now," the bench said adding that "We respect your pain".

"You have achieved what one aspires in the Army. You are a decorated officer. Why then a person of your status is getting into all this. Why this mess at this time.

"Your right to come to court with your grivances. We don't accept that you are suppressing facts.

Defence Ministry welcomed the apex court order saying that "the issue has been finally resolved and controversy put to rest".

The court noted that Gen Singh has to abide by his commitment and honour his letters of 2008 and 2009 in which he had said he will abide by the Government decision.

Earlier, at the start of the hearing, the Attorney General informed the court that government has withdrawn its December 30,2011 order rejecting Gen Singh's statutory complaint on his age issue.

At the same time, Vahanvati made it clear that the government stands by its decision of July last year to treat his date of birth as May 10,1950.

Posing tough questions to Gen Singh as to why he did not get the records corrected, the bench all documents at threshold when Gen Singh joined Indian Military Academy and National Defence Academy contain the date of birth as May 10,1950.

The bench put some searching questions to the Army Chief asking why he did not get his date of birth corrected with the UPSC which had recorded it as May 10, 1950.

"The documents at the threshold when you wanted to join IMA, NDA contains the date of birth as May 10, 1950... In all documents at the threshold your date of birth is recorded as May 10, 1950," the bench said.

The court also said that the primary record for Gen Singh's date of birth was with UPSC which never corrected it. "Has UPSC record been corrected regarding date of birth.

If not, did you take any steps to get it corrected?, it asked. As the hearing began, the bench wanted to know from the Attorney General as to what instructions he has about the December 30 order.

The Attorney General responded saying that the second part of the order is treated as withdrawn.

On that the bench said, "you are withdrawing the order (of December 30)?" The Attorney general said that "December 30 order goes but July 21 and 22 stands".

Solicitor General Rohinton Nariman cited three letters of Gen Singh between January 2008 to November 2009 to say that he has been unequivocally given up his personal rights.

During the hearing, the court said it was not concerned about the actual date of birth of Gen Singh but whether any intervention was required in his official record.

The court saw nothing wrong with the Army Chief approaching it, saying he was not at fault.

"You have just come to the court to point out Government's fault in not correcting your date of birth. It's not that you have come here out of the blue to get benefit," the bench observed.

"There is no malice in your seeking to restore the date of birth as May 10, 1950," it said.

"It is unfortunate, inadvertant or a matter of destiny, whatever you call. You have been very candid and honest," the bench said adding that such matters "should not have been dragged into to public domain and should have been handled properly," the bench further said.