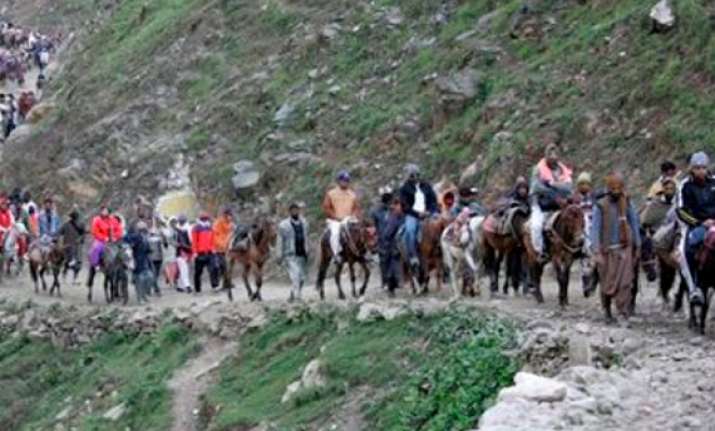 Pahalgam (J-K), Jun 25: The annual Amarnath yatra today began with pilgrims from both the base camps starting their journey to the cave shrine where Jammu and Kashmir Governor N N Vohra offered prayers amid holy chants.  
"The pooja was held inside the cave shrine this morning, marking the beginning of this year's yatra to the holy cave of Amarnathji," Chief Executive Officer Shri Amarnath Shrine Board (SASB) Naveen K Chaudhury told PTI.  The pilgrims began their journey from both the Baltal and Nunwan base camps.
Earlier, inclement weather had delayed the scheduled start of the pilgrimage from the camps. An official of the yatra control room here said that the pilgrims were not allowed in the wee hours as some parts of the track on both Baltal and Pahalgam routes had been rendered slippery due to overnight rains.
The authorities have made adequate arrangements for the registered pilgrims but a significantly higher number of intending pilgrims have arrived in Pahalgam and Baltal, the official said.
He said, however, only registered pilgrims will be allowed to proceed towards the holy cave.  The Governor, who is also the chairman of SASB, upon his return from the shrine visited the Nunwan base camp here and interacted with the pilgrims. He also took stock of the arrangements made for them.
Meanwhile, the second batch of pilgrims today left for the cave shrine from Jammu amid tight security.  As many as 2,185 pilgrims, including 985 males, 578 females, 322 children and 300 sadhus left in 66 vehicles from Bagwatinagar base camp here around 0425 hours for Amarnath, Police Control Room officials said.