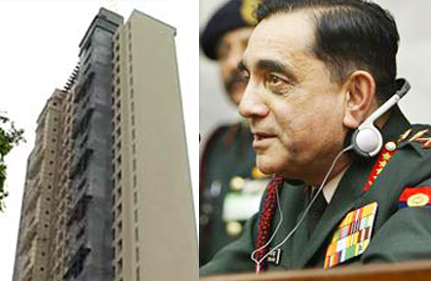 New Delhi, Nov 1 :  Former army chief Gen Deepak Kapoor, one of the three ex-service chiefs who were allotted flats in controversial Adarsh Housing Society in Mumbai, has said the episode has caused "great anguish" to him and that he has sought termination of his membership.
Breaking his silence after the controversy broke out, he also said the former service chiefs had no idea that the flats were meant for Kargil war widows and that he was not involved in any kind of "nepotism".
Gen Kapoor told a news channel that he has written to the Society that "irrespective of whatever(happens), I'd like my membership of the Society to be terminated and my allotment for the flat be cancelled."
"Two days back Admiral Madhavendra, an ex-Naval chief, had made a statement on behalf of all three of us that this controversy which is being talked about in the media for the last few days has been a source of tremendous distress and anguish for all three of us," he said.
"We were not aware at any stage that the flats were meant for Kargil war widows. If this is true, this is yet to be confirmed, as has come out in the media so far...but if this is true, we have said that we will be prepared to surrender the flats," he said.He said he has worked throughout for the well-being of army troops.
"There is no question of any nepotism as far as I am concerned. I have never been in the chair whenever any of these allocations etc have been made."
He said has worked for improvement of habitat conditions of armymen in the forward areas, better rations for the troops as well as better pay and allowances for them. "So having done all that for the good of the troops that we command, where is the question of any kind of nepotism?"
That is why it was a matter of "great anguish" for them that it was thought that they have "usurped" the rights of others, he said. "That is why I have gone ahead and cancelled my allotment," Gen Kapoor said.Former Navy chief Admiral Madhavendra Singh and ex-Army Chief Gen N C Vih had also said they had returned the flat. PTI