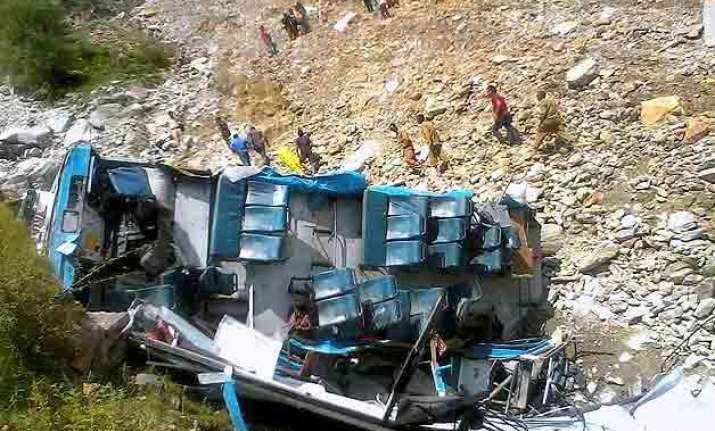 Chamba(HP): Nine persons, including two women and a child were killed and eight others were injured when a Himachal Road Transport Corporation (HRTC) bus fell into a deep gorge from a steep hill near Bairagarh on Chamba-Killar road in Chamba district today, officials said.  
The incident took place when the driver, Hem Raj, of HRTC bus failed to negotiate a sharp curve and the bus rolled down from a steep hill into the gorge.
The accident spot was about 100 km from district headquarters-town Chamba.  Altogether 17 people were travelling in the bus, which was on its way to Killar in tribal Pangi valley from Chamba.  
All the bodies have been recovered and injured were rushed to hospital, Deputy Commissioner, Chamba, M  Sudha Devi said.
On receiving the information, DC, Additional District Magistrate Shubh Karan Singh, district officials, accompanied by the HRTC staff, and a team of doctors rushed to the spot to carry out relief and rescue operations.
Himachal Governor Acharya Devvrat and Chief Minister Virbhadra Singh have conveyed their heartfelt sympathies to the bereaved families. They also prayed for early recovery of the injured of the accident.
Forest Minister Thakur Singh Bharmouri, HP Pollution Control Board Chairman Kuldeep Singh Pathania and MLA Asha Kumari have also expressed their sympathies to the families of the deceased.
The victims were identified as Reena of village Manded of Baijnath (Kangra), Man Dei of Tindi (Lahaul-Spiti) and Salochna, Vyas Dev, Bhag Singh, Roshan Lal, Devi Singh, Chand and a male of a nearby village of Chamba district.  
The injured were identified as Manjeer Begum, Kishna Devi, Meena, Ramesh Kumar, Hem Raj, Chatro Ram, Ayush - all from Chamba district and Sanjeev Kumar, a resident of Manwana village of Mandi district.