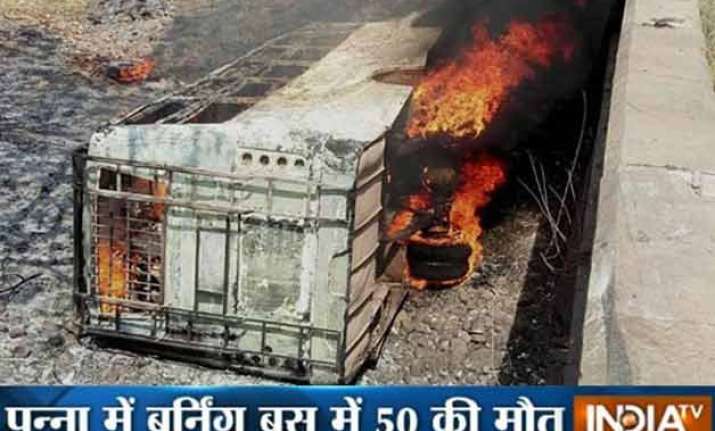 Panna (MP): At least 50 people were charred to death and 15 others sustained burn injuries when the private bus, they were travelling in, fell into a nullah and caught fire in Panna district of Madhya Pradesh on Monday.
The accident took place near Pandav fall, close to Panna Tiger Reserve, nearly 14 km from the district headquarters.  After the accident Superintendent of Police I P Arjaria told PTI over phone from the accident spot, "We have pulled out 21 charred bodies from the bus which was on its way to Satna district from Chhatarpur district."
The injured persons were rushed to a hospital.  Arjaria said the diesel tank of the bus exploded after it skidded off a bridge and fell 15 feet down into a nullah. The resultant fire gutted the vehicle completely.  
Madhya Pradesh Chief Minister Shivraj Singh Chouhan announced financial help of Rs 2 lakh each to the kin of the deceased and Rs 50,000 and Rs 25,000 to the seriously injured and the injured victims, respectively. He also ordered a magisterial inquiry into the incident.
Prime Minister Narendra Modi offered condolences to kins of the victims and wrote on microblogging website Twitter, "News of bus accident in Panna, MP is extremely saddening. Condolences to families of the deceased. I wish the injured a speedy recovery."
Congress president Sonia Gandhi on Monday also expressed her grief over the accident and offered condolences to the families and friends of the deceased. She hoped that the injured were being adequately treated.
Congress vice president Rahul Gandhi said he was shocked to hear about the bus accident.
"My deepest condolences to the families who lost their loved ones in this terrible accident. I urge the authorities to investigate the accident thoroughly and ensure that the injured are adequately cared for," he said.
(With inputs from agencies)