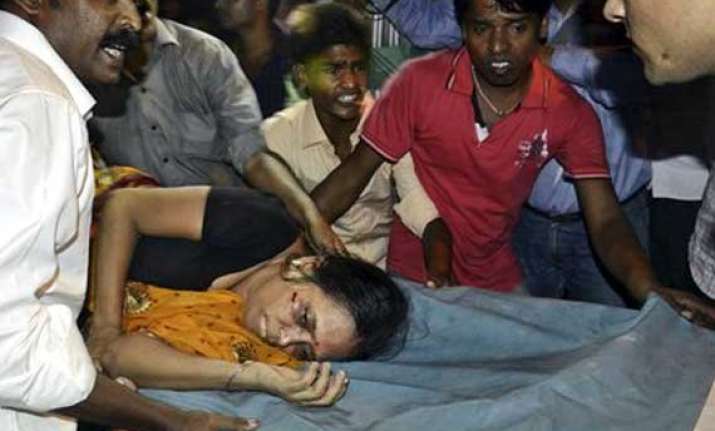 New Delhi: The toll in a stampede after the burning of the Ravana effigy at the Gandhi Maidan here rose to 33 Saturday morning after the death of a child, officials said.
"The condition of at least five seriously injured people is critical," a district official said.
Thirty two people, including women and children, had died in the stampede that took place Friday evening outside Patna Gandhi Maidan after Dussehra rally. Police said at least 25 people are seriously injured.
It is believed the stampede took place after a rumor of breakage of an electricity wire spread among the crowd.
Additional Director General of Police Gupteshwar Pandey said that a probe into the cause of the stampede has begun.
Around 5 lakh people were present at the Patna Gandhi Maidan to celebrate the festival of Dussehra and the chaos created after the rumor resulted in a stampede.
All injured have been admitted to Patna Medical College Hospital(PMCH).
Prime Minister Narendra Modi spoke to the Bihar Chief Minister to enquire about the stampede. He sanctioned Rs 2 lakh each for the next of those killed.
"Amongst the dead, there were 5-6 children and around 20 women," according to Patna District Magistrate Manish Kumar Verma.
Verma said around 15 people were injured and were being treated at a local hospital.
The incident happened at the Exhibition Road area near Gandhi Maidan in the heart of the city, as some people in the crowd started jostling with each other to move forward, eyewitnesses said.
The police have blocked the entry of people to the stretch now.
Some eyewitnesses said that panic broke out following rumours that a live electric wire had fallen to the ground.  Slippers, shoes and footwear were seen strewn on a 500 metre stretch as people tried to flee from the scene.
"There was so much rush towards the exit gate that several women and children were run over in the frenzy," Verma said.
For more information, please contact following authorities:
Designation                                          Division        Office (code 0612)    Mobile    
     
Commissioner                                      Patna          2219205          9473191425, 9431821030  
IG (Inspector General)                          Patna          2219406         9431822950    
     
DIG (Deputy Inspector General)         Patna          2219717        9431822955    
     
District Magistrate (DM)                      Patna         2219545        9835026485    
     
Senior Police Superintendent (SSP) Patna        2214318, 2219745    9431822967    
     
City SP                                                  Patna         2219423         9431822969    
     
Rural SP                                                Patna        2219559         9431822968    
     
Traffic S P                                             Patna        2219543         9431822970    
     
DSP Town                                             Patna                                 9431818400    
     
DSP Patna sadar                                Patna                                 9431800119    
     
DSP  Barh                                            Patna 06132 - 242306    9431800117    
     
DSP Law & Order                               Patna                                 9431818398    
     
DSP Sachiwalya                                 Patna    0612 - 2222971  9431818399    
     
DSP Danapur                                      Patna    06115 - 227203   9431800116    
     
DSP Phulwari Sharif                           Patna    0612 - 2555666   9431467724    
     
DSP Masaurhi                                     Patna    0612 - 2435707   9431800115    
     
DSP Paliganj                                       Patna    06135 - 277358   9431800114    
     
DSP Sachiwalya (Surakchha)         Patna    0612 - 2221014     9431494876