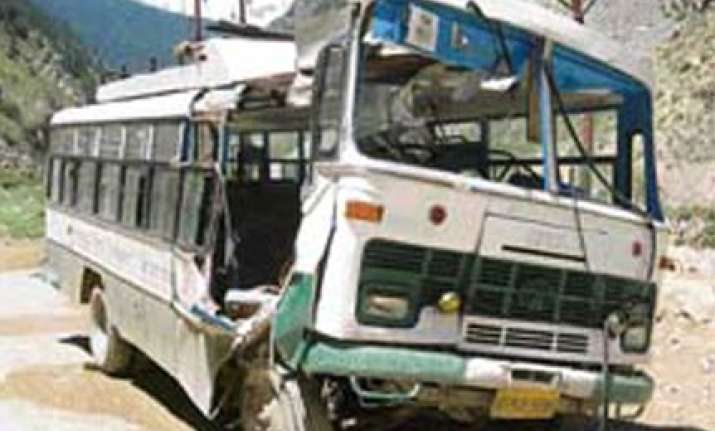 Shimla: In the second major accident in Himachal Pradesh in 24 hours, at least 22 persons, including four women, were killed and thirty five injured this evening when a private bus they were travelling in fell into a deep gorge about 45 Km from here.  
The ill-fated bus (HP-63-0361) was on its way from Santhora to Shimla when the tragedy struck at Sanai in Theog area near here. Nineteen persons died on the spot while three others succumbed to injuries on way to the hospital, police said. Thirty five persons were injured in the accident, 20 of them seriously. All of them have been rushed to different hospitals, they said  
Twenty two bodies have so far been recovered and the deceased include four women and eighteen men, Shimla SSP R M Sharma said. He did not rule out the possibility of death toll mounting further as a number of people were still feared trapped under the wreckage of the bus. The district officials immediately rushed to the stop which was not approachable by road and bad weather and difficult terrain hampered the rescue operations.  
Local people trekked the perilous hill slope to reach out to the victims and actively cooperated in recovering the bodies and rushing the injured persons to the hospitals. Fifteen injured persons were admitted to a hospital at Theog while 20 with serious injuries were brought to IGMC hospital at Shimla.  
This was the second major accident in the state during the past 24 hours. Thirty seven perssons had died in a truck accident near Koti in Mandi district last evening.  
Himachal Pradesh Governor Urmilla Singh and Chief Minister P K Dhumal have expressed deep shock over the accident and asked the administration to provide immediate relief to the victims. PTI