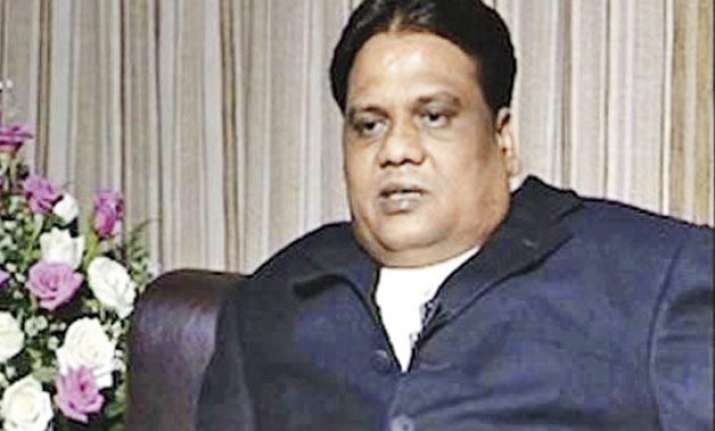 New Delhi: Rajendra Sadashiv Nikhalje who is also known as Chhota Rajan was born at Mumbai in the year 1960, who later became one of India's most wanted gangsters. Rajan was arrested on Sunday in Indonesia after he arrived from Sydney on the Bali Airport. Interpol in Canberra alerted Indonesian authorities, who then arrested him at the request of Indian authorities, reports added.
He has been on the run for more than almost two decades and wanted in criminal cases which include extortion, smuggling, murder, drug trafficking and also film finance.
Here is the entire journey of most dreaded Gangster 'Chhota Rajan':
1. Chhota Rajan was a key aide of Dawood Ibrahim.  He started work as a petty thief for Rajan Nair also known as Bada Rajan. After Bada Rajan's murder Chhota Rajan took over his reign. Later he was joined Dawood Ibrahim and fled India to Dubai in 1988.
2. Rajan has been booked under more than 17 murders which also includes the murder case of known journalist Jyotirmoy Dey.
3. Rajan parted with Dawood Ibrahim in 1996, after Mumbai blasts. Rajan made his own group of Gangster led by Sautya, Chhota Shakeel and Sharad Shetty.
4. In Between 1994 to 1999 there was a massive gang war between Chhota Rajan and D-company in which Rajan's aide gunned down D-company's major gangsters including Lambu Shakeel and Damaniya the owner of east west airlines.
5. In 2000, Dawood Ibrahim's right-hand man Chhota Shakeel tried to kill Rajan in Bangkok in which Rajan's close aide Rohit Verma was killed during that gangster war.
6. Deepak Nikalje, brother of fugitive gangster Chhota Rajan, is a leader of Republican Party of India (RPI-A) in Chembur. Deepak has also produced most watched movies like 'Vaastav' and 'Hathiyaar'
7.In 2013, following the spot-fixing scandal in IPL 6, Chhota Shakeel claimed to a media house that ''Rajan has big bookies like Vinod Chembur who plays big bets in Mumbai''.
8. According to the reports, Chhota Rajan also invested his money in various construction companies of Chembur but after some year Mumbai Police raid all those construction companies.
9. Chhota Rajan has been accused of having links with bollywood celebrities like Salman Khan and according to a magazine Salman was in the know that Bharat Shah's 2000 film 'Chori Chori Chupke Chupke' was financed by the underworld.
10. In the world of gangsters Rajan has been named as 'Nana' and Suajata as 'Nani'. Sujata Nikalje held control of the gang in the absence of fugitive don Chhota Rajan, a public prosecutor claimed. She was arrested by Mumbai police several times for extorting the money from the builders of Chembur, Kurla and Ghatkopar.