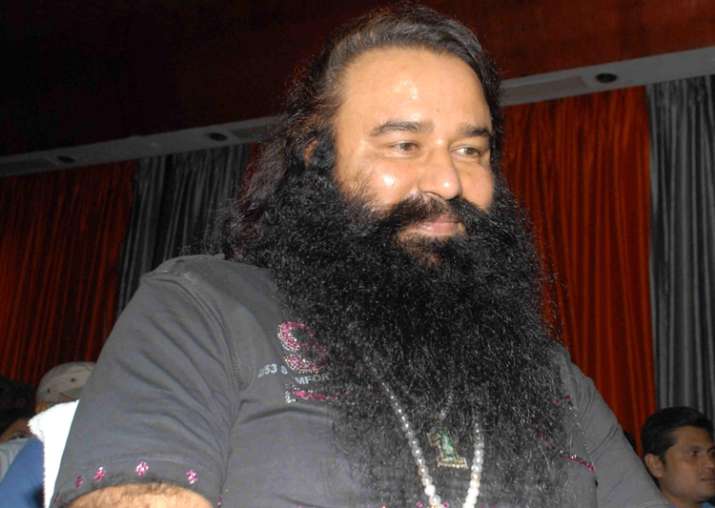 Over 15 years after an anonymous sexual exploitation complaint was registered against Dera Sacha Sauda head Gurmeet Ram Rahim Singh, a special CBI court in Panchkula today convicted the controversial baba. The CBI judge Jagdeep Singh while holding the 50-year-old Dera chief guilty of rape said the quantum of sentence will be pronounced on August 28. The punishment can be a jail term not less than seven years but may even extend to life imprisonment. 
The sexual exploitation case was registered against the Dera chief in December 2002 by the CBI on the directions of the Punjab and Haryana High Court after an anonymous letter was written to the then Chief Justice about the alleged sexual exploitation of two 'sadhvis' (female followers) by him. The Dera chief, however, has denied these charges. The case was registered eight months after the then chief justice received the letter. Ram Rahim is also an accused in two murder cases. 
The Dera chief enjoys 'Z' category security and travels in a convoy that included several SUVs to reach Panchkula. 
The Special CBI court had framed charges against Ram Rahim under sections 376 (rape) and 506 (criminal intimidation) of the IPC in September 2008. Between 2009 and 2010, the two complainants recorded their statements before the court. The Special CBI court shifted from Ambala to Panchkula and the case against Dera chief WAS also transferred to Panchkula CBI Court. In July 2017, the court ordered daily hearing and arguments of prosecution and defence were concluded on August 17, 2017. 
Here are 10 lesser known facts about Ram Rahim: 
1. Gurmeet Ram Rahim Singh Insaan is a multi-faceted personality who wears many hats simultaneously. He claims to be a spiritual leader and a social reformer. He was anointed as the chief of Dera Sacha Sauda (DSS), which claims to be a socio-spiritual organization  (DSS), on 23 September 1990. He has a large following in pockets of Punjab and Haryana.  
2. Ram Rahim was born to Naseeb Kaur and Maghar Singh on 15 August 1967, at Sri Gurusar Modia village in Ganganagar district of Rajasthan. He is married to Harjeet Kaur and has two daughters - Charanpreet Kaur and Amarpreet Kaur, and a son named Jasmeet Singh. They all use Insaan as their surname.
3. In 2002, a female follower of Singh's allegedly penned an anonymous letter to then Prime Minister of India Atal Vajpayee accusing Singh of sexual abuse. In his defence, the self-styled godman had told Panchkula court that he is not mentally and physically fit to have sexual intercourse. The CBI registered the rape case against the Dera chief on the directions of the Punjab and Haryana High Court on September 24, 2002. In the same year 2002,  charges were levelled against him for the murder of two persons- journalist Ram Chander Chatrapati, who was writing articles against Dera Sacha Sauda, and Dera Sacha Sauda manager Ranjit Singh.
4. In May 2007, Ram Rahim was accused of hurting the religious sentiments of the Sikhs by wearing, in an advertisement, an attire, resembling the tenth and final living Sikh Guru Gobind Singh, by using a turban with a kalgi .
5. On 13 January 2016, actor Kiku Sharda (who played the character Palak in Comedy Nights with Kapil) was arrested in Mumbai by the Haryana Police for mimicking Singh on his show. Sharda spent 14 days in judicial custody in Kaithal, Haryana.
6. He is among the 36 Indians to have a VVIP status and hence given Z-level security, in addition to his own private guards.
7. The sect has under its belt several Guinness World Records, including largest blood donation camps in 2003, 2004 and 2010; has rehabilitated prostitutes, transgenders, alcoholics and drug addicts; and carried out disaster relief -- from the December 2004 Tsumani and Gujarat earthquake to flash floods in Uttarakhand. The social activities of the sect -- from blood donation camps to running educational institutions and carrying out social welfare measures, have made it popular among millions of its followers, mostly from the poorers sections of the oppressed castes in society.
8. The Dera Sacha Sauda claims that it has over 7 crore followers across the country and abroad. A vast majority of these are in Haryana, Punjab and Rajasthan.
9. Ram Rahim has worked in Bollywood as an  actor, director and singer.On 16 January 2015, his film "MSG: The Messenger" premiered at Leisure Valley ground, a large park in Gurgaon city used for exhibitions and conventions. He has also been honoured with most popular Actor, Director, Writer award by Dadasaheb Phalke Film Foundation.
10. He launched his 'MSG' range of "swadeshi and organic" products about two years ago. The business is looked after by his  children. Ram Rahim has also sung songs in films and has released albums like "Highway Love Charger" -- unleashing his 'rockstar' avatar. His other music albums include "Network Tere Love Da", "Thank U for That" and "Insan -- one who lives for others". He claims that millions of his music CDs have been sold, most of them being lapped up by his followers. His songs and music encourage the youth and other people to keep away from evils like drugs, prostitution and alcohol.