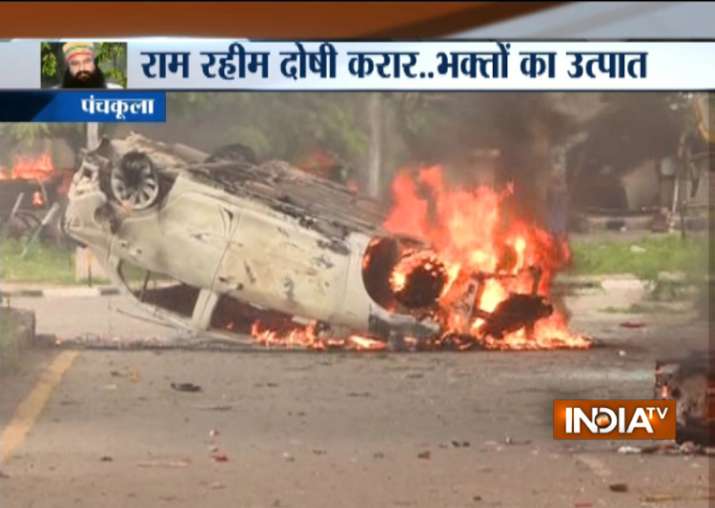 A CBI special court today held the controversial Dera Sacha Sauda sect chief Gurmeet Ram Rahim Singh guilty and convicted him on charges of raping and sexually exploiting two female disciples. Trial court judge Jagdeep Singh announced the verdict amid unprecedented security here. The sentence will be pronounced by the court on Monday (August 28).
The sect chief was present in the court when the judgment was pronounced. Outside the court, tens of thousands of his supporters were massed along with thousands of security personnel. The rape victims, despite threats and pressures all along, stood their ground on rape and sexual harassment allegations during the nearly 15-year hearing of the case in court.
As soon as the verdict was delivered, violence erupted near the court premises with police lobbing tear gas shells and fired in the air to control restive Dera supporters. 
Meanwhile, Ram Rahim has been taken to Rohtak Jail by the Haryana Police. He will be produced in the court against on Monday when the quantum of punishment will be pronounced.
More than 200 trains have been cancelled. Educational institutions in both the neighbouring states -- Punjab and Haryana have been shut. Government offices too have declared holiday till Friday. 
Violence in Punjab, Haryana 
Large-scale violence erupted in Punjab and Haryana as enraged followers of Ram Rahim torched scores of vehicles and buildings in Panchkula after he was held guilty of rape. Thousands of sect followers who had gathered outside the court complex in Panchkula attacked security personnel and media persons and then went on a rampage. In no time, it was complete anarchy in and around Panchkula town, adjoining Chandigarh.
Witnesses and residents said about 150 buildings and vehicles were set on fire in Panchkula, sending huge plumes of smoke rising into the sky. These included government and private vehicles as well as government buildings.
The vastly outnumbered security forces were seen running for cover in some places as thousands of Dera supporters pelted them mercilessly with stones. Some media Outdoor Broadcasting vans were also set on fire. Some journalists were attacked. Media persons took shelter in nearby houses to save themselves from the mobs.
Security forces opened fire at some places at the protestors. Unconfirmed reports said 22 people were killed. A total of 50 incidents of violence were reported within one hour in Punjab and Haryana after the court verdict became known. The numbers kept increasing as time passed. Most attacks in Panchkula took place in Sectors 3, 4 and 5, which are all close to the court complex. The police and paramilitary forces could not react adequately as the mobs indulged in violence. 
Soldiers deployed in the area moved in quickly and took control of the court complex, where the sect chief was taken into custody following his conviction.
Haryana Chief Minister Manohar Lal said that strict action will be taken against those who are indulging in violence. "Action will be taken against those taking law in their hands, appeal everyone to remain cautious. No one is above law. Appeal people to not believe in rumors and steer clear of people with criminal intentions," he said.
Violence was also reported from elsewhere in Haryana and Punjab. Attempts were made to burn two railway stations in Punjab's Malout and Mansa towns. Unconfirmed reports said six masked miscreants damaged and set on afire an Income Tax office in Mansa. There were reports of violence in Mansa, Bathinda and Firozpur districts in Punjab. Curfew was imposed in these towns.
The violence and arson by the supporters of the Dera Sacha Sauda chief brought back the chilling memories of last year when this city, on the outskirts of Chandigarh, witnessed agitation by the Jats over reservation.
(With inputs from PTI and IANS)