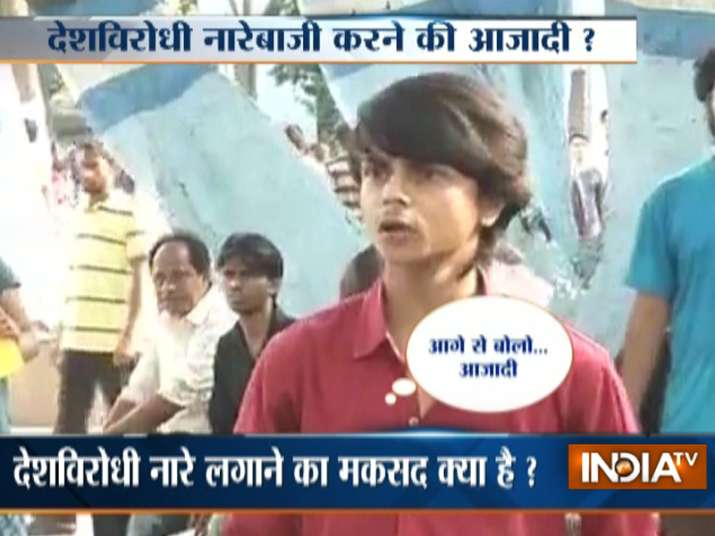 The Jadavpur University has once again become the centre of a raging controversy, all thanks to the local students for raising 'Azadi' slogans and comparing UP Chief Minister Yogi Adityanath with US President Donald Trump.
According to news agency ANI, a new video has emerged in the public domain in which few students, also holding some placards, can be seen assembling at a common place inside the university campus and raising 'Azadi' slogans and demanding 'freedom' of few states.
As shown in the video, recorded outside of the Academy of Fine Arts, a student – clad in red shirt and jeans, can be heard raising 'Azadi' slogans. Other students, who surrounded him, were seen displaying placards that read 'Yogi is the new Trump...Brahminical version of white supremacy'.
Students said that they were protesting against the Rashtriya Swayamsevak Sangh (RSS) for conducting a seminar on the issue of minorities in Bangladesh. 
"This protest is against the RSS' conducting of seminar on the issue of minorities in Bangladesh. We think the same RSS which has been the reason for the deaths of thousands in Godhra, in Muzaffarnagar cannot address the minority issue. We doubt their credibility, rather we think they are here to evoke communal sentiments and pitting one against the other. So we are protesting here," Debopriyo Som, a student and United Students Democratic Front (USDF) member, said.
The incident took place when an international seminar on persecution of minority Hindu Buddhist Christians in Bangladesh was going on inside the Academy of Fine Arts.
This was not the first time when posters calling for 'Azadi' of few Indian states rocked the university. In past, on many occasions, students of Left backed union had raised such slogans, inviting actions from RSS' youth wing Akhil Bhartiya Vidyarthi Parishad (ABVP).
Universities, where Left backed unions have strong presence, have been at the centre of controversy for such events. Last year, students of All India Students Federation (AISF), the student wing of the Communist Party of India (CPI) and others had raised slogans in favour of Parliament attack convict Afzal Guru and 'Azadi' for Kashmir at the Jawaharlal Nehru University (JNU) in Delhi.