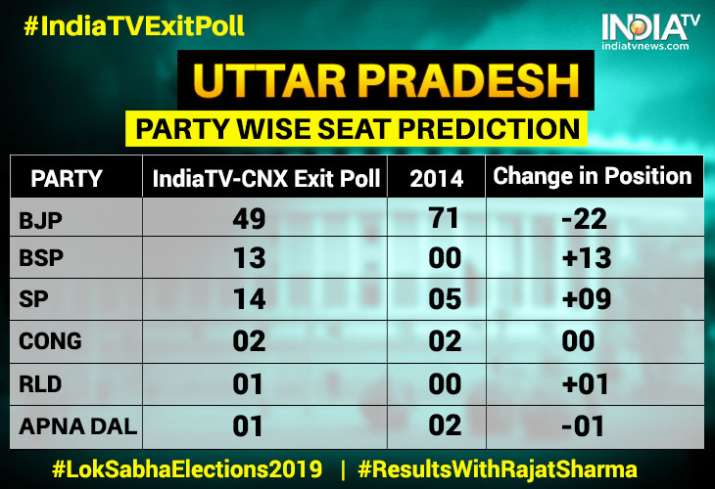 Talking about Uttar Pradesh exit poll, the SP-BSP alliance led by Akhilesh Yadav and Mayawati is likely to win 27 seats in Uttar Pradesh, says India TV-CNX Exit Poll. The Bharatiya Janata Party (BJP) is facing a loss of 22 seats from its tally in 2014 and likely to emerge winners in 49 Lok Sabha seats. UP sends 80 members to Lok Sabha. 
BJP, which got 42.63 per cent votes in 2014 has managed to get 43.10 per cent of total votes but its seat tally has taken a significant dent due to an alliance between the Samajwadi Party and the Bahujan Samajwadi Party. Lok Sabha Election 2019 was held in Uttar Pradesh in seven phases. 
According to  India TV-CNX Exit poll, the Bharatiya Janata Party is likely to win 49 seats, SP+BSP is predicted to win 27 seats and Congress to win 2 seats. RLD and Apna Dal is predicted to win 1 seat respectively.
Here's the complete list of Uttar Pradesh as predicted by India TV-CNX Exit Poll
Party
CNX Survey Results 
2014
Change in Position
BJP 
49
71
-22
BSP
13
00
+13
SP
14
05
+09
Congress 
02 
02 
00
RLD 
01
00
+01
Apna Dal
01
02
-01

 
India TV-CNX exit poll suggests NDA is expected to get 12 seats and alliance to get 9 seats in UP West. In Rohilkhand NDA is predicted to get 7 seats whereas alliance to get 4 seats. Talking about Bundelkhand, NDA is expected to get 4 seats and 1 seat will go to the alliance. India TV-CNX exit poll predicts 11 and 16 seats to Awadh and Poorvanchal for NDA. The alliance is predicted to get 6 and 8 seats in Awadh and Poorvanchal respectively. UPA is expected to get 2 seats in Awadh.
Here's the complete list of vote share prediction in Uttar Pradesh by India TV-CNX Exit Poll
| | | | |
| --- | --- | --- | --- |
| Party | % CNX Survey Results | 2014 | Swing of Votes |
| BJP | 43.10 | 42.63 | +0.47 |
| BSP | 17.27 | 19.77 | -2.5 |
| SP | 18.34 | 22.35 | -4.01 |
| Congress | 14.05 | 07.53 | +6.52 |
| RLD | 00.95 | 00.86 | +0.09 |
| Others | 06.29 | 05.86 | -0.57 |
Amethi, where Smriti Irani is giving a tough fight to Rahul Gandhi, is likely to swing Congress' way, says India TV-CNX opinion poll.
Rajnath is likely to win from Lucknow and Sonia Gandhi is predicted to win from Rae Bareli. Dimple Yadav is likely to lose Kannauj seat.
In 2014 general elections, BJP had won 71 seats, Apna Dal bagged 2, Samajwadi Party 5, Congress 2 and BSP drew a blank. 
The key constituencies in Uttar Pradesh are Varanasi, from where Prime Minister Narendra Modi is seeking re-election. Some other prominent faces include UPA chairperson Sonia Gandhi contesting from Rae Bareli, Congress president Rahul Gandhi faces Union minister Smriti Irani in Amethi, Azamgarh Samajwadi Party president Akhilesh Yadav, Mainpuri SP patriarch Mulayam Singh Yadav, Gorakhpur the seat Chief Minister Yogi Adityanath dominated for over two decades. But the BJP lost it in bypoll two years ago.
Besides, Union minister Manoj Sinha is seeking reelection from Ghazipur and Uttar Pradesh BJP chief Mahendra Nath Pandey is in the fray from Chandauli. Both Lok Sabha seats are in the neighbourhood of Varanasi.
Voting took place on April 11, 18, 23, 29, May 6, 12 and 19. The counting of votes for the 17th Lok Sabha will take place on 23rd May.
India TV-CNX Exit Poll is based on surveys conducted in 542 out of 543 Lok Sabha seats in the country. The sample for the survey was drawn using a multi-stage Stratified Random Sampling Technique. The survey team visited the randomly selected polling station going deep into by-lanes and meeting people from all walks of life.
A quantitative survey using a structured questionnaire was administered randomly to 135500 men and women from section A and section B households, in the age group of 18 to 60. (The results are subject to a margin of error 2.5 per cent)
Also Read: BJP'S policy of divide and rule wont't work: Mayawati
Also Read: It was 'difficult' to celebrate festivals during previous governments in UP: Yogi Adityanath
Watch Video: