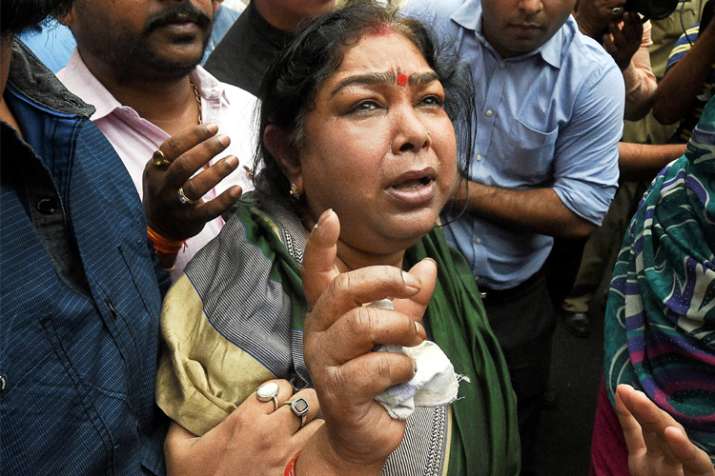 Two days after the father of a woman, who alleged rape by a BJP MLA, died in custody in Unnao district of Uttar Pradesh, the politician's wife today demanded a narco test on her husband and the survivor. 
The 18-year-old woman, who had tried to kill herself outside the Chief Minister's house here, on the other hand alleged that she had been confined to a hotel room by the district administration and her uncle was killed by the MLA's brother and henchmen, who later also killed her father. 
She said, "I want justice, why are they pressuring me for an apology? Do they want my (another) uncle to be killed too?" 
A purported video of the alleged rape survivor's father before his death also went viral and was shown by several TV channels, in which he alleged that he was mercilessly beaten up by the MLA's brother and others, including with rifle butts. It also showed the deceased person's back with serious wounds, but its veracity could not be ascertained. 
Meanwhile in the state capital, Sangeeta Sengar, wife of the MLA Kuldeep Singh Sengar, told reporters after meeting DGP OP Singh that there was a political conspiracy against her family and accused the complainant of not being consistent in her statements. 
"We demand that a narco test be conducted on my husband and the girl as well as her uncle. This will help in ascertaining the truth and presenting the correct picture.
"We have full sympathy with the girl, as her modesty was outraged... There are political reasons behind this and my husband has been made a pawn," Sangeeta Sengar said. 
"My husband is innocent and it is my request that he should not be called a rapist. He has been in politics for the past 15 years and has been serving the society and people," she said, adding, her daughters were unable to concentrate on their studies in the wake of this incident. 
She said the allegations against her brother-in-law Atul were false too. 
On whether her husband should resign from the UP Assembly, she retorted, "Why should he quit even before he is declared guilty? Merely on the basis of charges, why should he resign?" 
She said she wanted to meet Chief Minister Yogi Adityanath and apprise him of the facts. 
Besides the MLA's wife, the alleged rape victim has also demanded a CBI probe in the entire matter. 
The victim claimed that the district administration in Unnao had virtually confined her to a hotel room "without a phone or water and guards at every corner". 
"I can't charge my mobile, there is no TV, no water. We are told we can't go outside," the girl told a TV news channel. 
"We are told we can't go outside, there are guards at every corner. When we ask them for help, they say it isn't their job. Is this justice?" the girl said. 
The MLA's brother Atul was arrested yesterday from Unnao by a crime branch team. 
A Special Investigation Team headed by Additional Director General of Police (Lucknow zone) visited Makhi village of the rape victim and collected information to submit a report to the chief minister. 
"The SIT team will probe on all the aspects of the case and act accordingly. Security has been provided to the victim's family," ADGP (Lucknow zone) Rajiv Krishna said. 
TV news channels ran the comments made purportedly by the alleged victim's father before his death in which he claimed that he was mercilessly beaten up by the MLA's brother. 
The Supreme Court said today it will hear next week the plea for a CBI probe into the case. The Allahabad High Court has ordered that the deceased's body should not be cremated, if already not done so. 
However, the mortal remains of the deceased were consigned to the flames yesterday, hours after his custodial death. 
The Congress demanded the dismissal of Uttar Pradesh chief minister, dubbing his government a "Ravan" regime which has failed to protect women. 
"Yogi Adityanath government is a government of Ravan, which has failed to protect women," Congress chief spokesperson Randeep Singh Surjewala said in New Delhi.
(With PTI inputs)