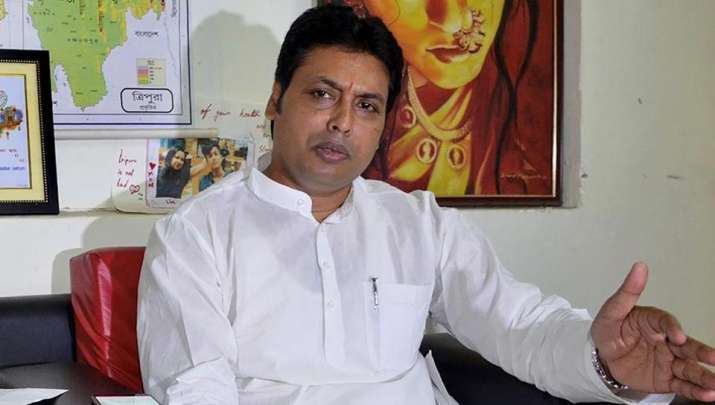 Tripura Chief Minister Biplab Kumar Deb on Friday warned those who were taking law into their hands, of stern action by police and civil administration. This came as three people including a vagabond woman and a vendor from Uttar Pradesh were lynched by mobs in different incidents in Tripura on Thursday.
Assuring that police and other security forces were completely alert and ready to deal with the situation, Deb said that adequate arrangements were made to maintain law and order in the state. 
"Nobody would be allowed to take law in their hands and strict action would be taken against those who indulge in violence and attack innocent people," he told reporters today.
Blaming the opposition CPI-M (Communist Party of India-Marxist) "for creating troubles and disturbing peace in Tripura", Deb said that police would not see the political affiliation while taking action against the law-breakers.
A vendor from Uttar Pradesh was lynched and four others, including a policeman, were seriously injured when a group of persons mistook them to be child lifters.
The incident took place in the tribal-dominated Murabari village in western Tripura when three small-time vendors belonging to Uttar Pradesh and Bihar went there to sell garments.
In another incident, a youth was hacked to death and two government employees seriously injured when a group of persons attacked them at Manu Bazar in southern Tripura, 130 km south of the state capital.
Sukanta Chakraborty, 36, accompanied by two government employees, was attacked when he was appealing to the public on behalf of the administration not to heed rumours.
In the third incident, a vagabond woman was hacked to death by a group of people at Bishalgarh in western Tripura, after she was thought to be a child trafficker.
The West Tripura district administration on Thursday imposed prohibitory orders in the tense areas under Mohanpur sub-division.
The ban on social media and mobile Internet continued for the second day on Friday to prevent the spread of rumours in the state.
Law and Education Minister Ratan Lal Nath said that during the past few days, seven incidents of mob violence and attacks took place in Tripura and police so far arrested 18 people.
"The CPI-M after losing power in the state trying to create violence and to put the BJP government in an awkward position and to obtain political mileage," he told the media.
Meanwhile, the CPI-M and Congress separately demanded high level probe into the violent incidents took place during the past few days.
"Education and Law Minister should resign or he should be removed from the cabinet for spreading rumors of kidney smuggling after the killing of an 11-year-old boy allegedly by two minors on Tuesday in Mohanpur areas (western Tripura)," said CPI-M central committee member Gautam Das.
Tripura Congress Vice-President Tapas Dey and General Secretary Harekrishna Bhowmik said that the party would soon approach acting Governor Keshari Nath Tripathi to take action against the Deb and Nath "for spreading confusing information" after the killing of the 11-year-old boy in Mohanpur.
The Congress also demanded a judicial probe by a sitting High Court judge to probe the recent incidents of violence and lynching and calling of an all party meeting to deal with the prevailing situation in the state.
(With PTI inputs)