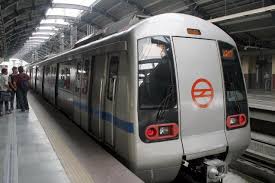 A smelly deodorant bottle led to a chaos of sorts for passengers aboard the Delhi Metro's Yellow line at the Hauz Khas station during the morning rush hour.   
The smell was so bad that passengers got off the coach en-masse, leading to a five to seven minute delay in the train schedule. 
The incident took place around 9.15 AM on Monday between Green Park and Hauz Khas stations on the Yellow Line that connects north Delhi's Samaypur Badli to Gurgaon's Huda City Centre.
Sources attributed the smell to a "leak" of a pepper spray carried by a female passenger. The canister leaked possibly because it had expired and had become loose, they said, adding the passenger concerned also apologised.
Abhishek Kumar, 28, who had boarded the train at Rajiv Chowk station said it halted at Hauz Khas after passengers pressed the emergency button and spoke to the driver.
"The smell made it difficult to breathe. The elderly especially found it tough and many started coughing. The train stopped at Hauz Khas station and many passengers disembarked," Kumar said.
Delhi Metro Rail Corporation (DMRC) officials said the smell had dissipated within a few minutes of the train entering Hauz Khas.
Few passengers were not ready to board the train. The train left for its destination after a delay of five-six minutes and it did not require any evacuation, an official said.
"Many passengers started coughing due to the smell. The train was then held up for a minute. It resumed its journey again before halting at Hauz Khas. There, many commuters hurriedly rushed out to the platform in panic," another passenger, who was travelling in it claimed.
(With agency inputs)