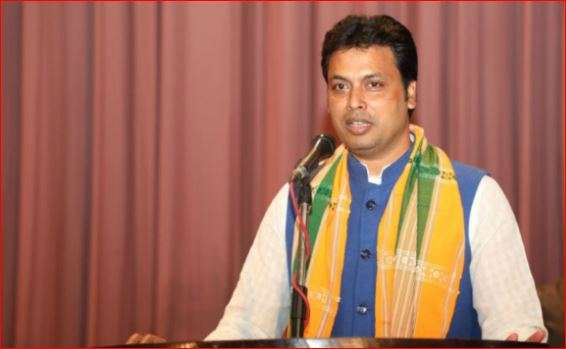 Tripura Chief Minister Biplab Deb, who is at the centre of controversy ever since he came to power, took the internet by a storm on Monday with the hashtag #SayItLikeBiplab over his string of eyebrow-raising remarks. 
Deb, who took charge of Tripura last month, has made several remarks which have been triggered widespread criticism. He had stated that the Internet and satellite communication existed during the Mahabharata era. He also questioned the crowning of Diana Hayden as Miss World in 1997. The chief minister also stated that mechanical engineers should not opt for civil services, but civil engineers should.He has also asked the educated youth to set up paan shops instead of running after political parties to get government jobs. He also asked youth to explore a career in the dairy field and keep cows.
Taking a jocular swipe on Deb, Twitteratis are tweeting using the hashtag #SayItLikeBiplab, and all of it in a lighter mode. 
Here's a look at some of the tweets: 
Only GATEkeeper should appear in GATE exam #SayItLikeBiplab

— BaBu 🇮🇳 (@Babu90_) April 30, 2018
People living in Shimla only eat Shimla Mirch.#SayItLikeBiplab

— Manisha Awasthi (@Manisha_Awasthi) April 30, 2018
Only Dull & Lousy people should visit Dalhousie 🤣 #SayItLikeBiplab

— Aarti 💓 (@aartic02) April 30, 2018
People who wear ulta chashma only they should watch "tarak mehta ulta chasma" #SayItLikeBiplab

— akash আকাশ (@akash_d21) April 30, 2018
If any man eats lady finger, he can turn in to female.#SayItLikeBiplab pic.twitter.com/VcFTmWCGt1

— Debarshi Majumdar (@debarshi1) April 30, 2018
I'm against Chinese products, so let's stop using cheeni in our tea. #SayItLikeBiplab

— Ashraf Engineer اشرف (@AshrafEngineer) April 30, 2018