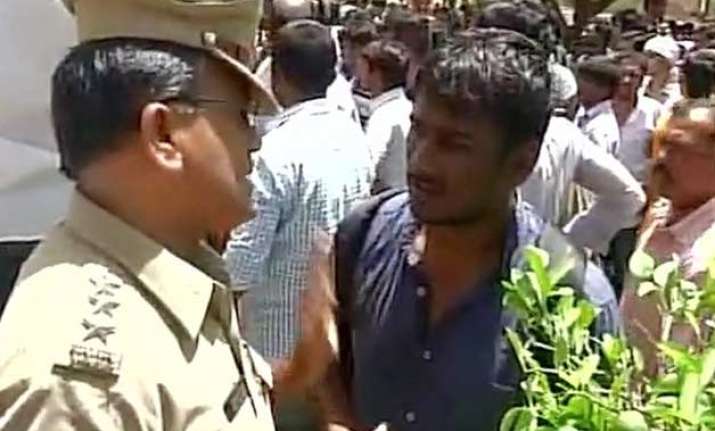 Hyderabad: About 200 students of Hyderabad University vandalised Vice Chancellor Appa Rao's office as he resumed work after his leave following dalit scholar Rohith Vemula's suicide on January 17.
Rapid Action Force was called in to Hyderabad University campus as protesting students reportedly held VC hostage and demanded his resignation over Vemula's death.
Glass panes were smashed, shelves were pulled down and other articles damaged with protesting students saying his return to work hurt their sentiments.
Agitating students also also shouted 'Azadi' slogans even as police threw a protective cordon.
According to initial reports, the vice-chancellor is trapped inside his lodge as students who want his resignation over Rohith's suicide are protesting outside it.
Students are blaming the "dictatorship of the union government" in allowing Rao to resume his duties.
Rao is under fire for his handling of the suspension of five dalit students, one of whom was Rohith Vemula.
On 17 January 2016, 27-year-old PhD. scholar Rohith Vemula committed suicide at the University of Hyderabad campus.
Podile went on leave on January 24, a week after Vemula's sucide.Union Labour Minister Bandaru Dattatreya and Hyderabad University Vice Chancellor were named in an FIR over the death of the scholar, which triggered massive protests and demands for their removal from their posts.
The issue also took a political turn with allegations that the extreme action was a result of discrimination against Dalit students after Dattatreya had written a letter to Union HRD Minister Smriti Irani seeking action against their "anti-national acts".
Even as Prime Minister Narendra Modi broke his silence and expressed grief over the death of Vemula, the students are demanding the removal of Union Ministers Smriti Irani and Bandaru Dattatreya and the Vice Chancellor.