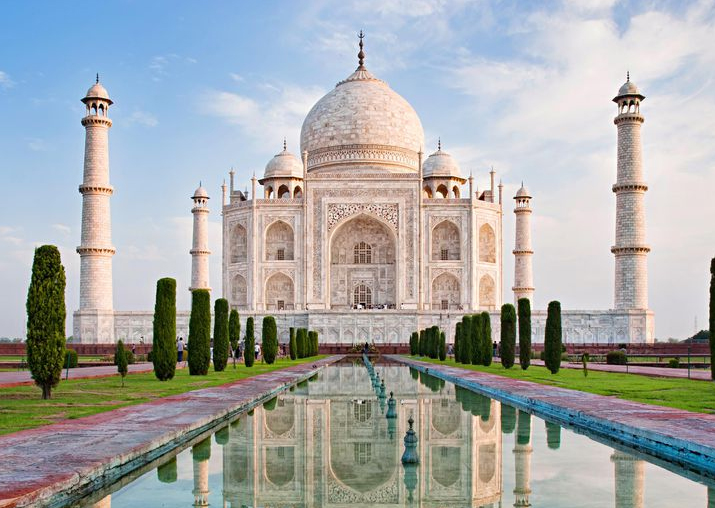 Activists of Rashtriya Swabhiman Party today stoked a fresh controversy involving Agra-based 17th century monument Taj Mahal. At least a dozen of the outfit's workers were caught reciting 'Shiva Chalisa' on the premises of the white marble mausoleum located on the southern bank of the Yamuna river this Uttar Pradesh city.
The incident triggered tension at the world heritage site with security officials immediately arresting the workers of the Rashtriya Swabhiman Party. Security officials seized their mobile phones and cameras. 
Later, all the youth were released after they submitted a written apology and deleted photographs and videos of their act which they had recorded in various devices.
According to reports, they also had live streamed their act on Facebook. They claimed that the Taj Mahal was originally a Shiv temple.
Deepak Sharma of the Rashtriya Swabhiman Party, who led the group, justified the act saying "volunteers were observing fast today and it was natural to recite 'Shiv Chalisa' on Monday because Tejo Mahalaya is originally a Shiva temple" .
Sharma claimed they did nothing wrong. He said that they apologised in writing because they were told by CISF officials to do so.
A major controversy was erupted recently when controversial BJP MLA Sangeet Som said that the Taj Mahal was a 'blot' on Indian culture and misquoted history by saying that Shah Jahan, builder of the 17th century marble mausoleum, had jailed his father and wanted to wipe out Hindus from the country.
Later, CM Yogi Adityanath was forced to issue a clarification, saying "the famed monument in Agra was a part of Indian heritage". Adityanath noted that the Taj Mahal was constructed "by the blood and sweat of Indian labourers". 
The CM is slated to visit the Taj Mahal, Agra Fort, Fatehpur Sikri and other important monuments in Agra on October 26. During his stay here, the CM will review the progress of various developmental projects. 
The Taj, one of the Seven Wonders of the World and a UNESCO World Heritage site, was built by Shah Jahan in memory of his beloved wife Mumtaz Mahal.