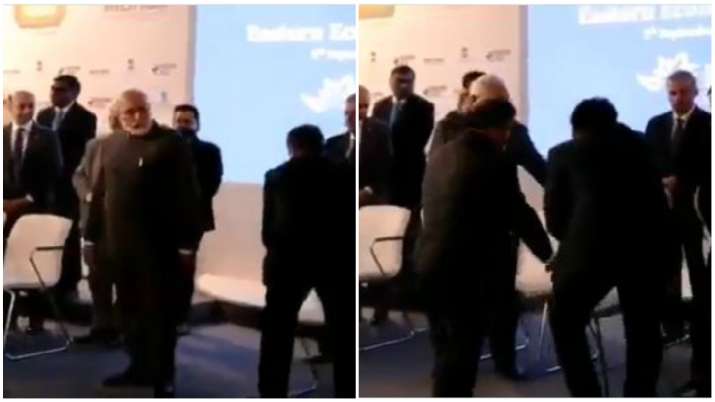 Prime Minister Narendra Modi declined a comfortable sofa kept specially for him at a photo session and instead asked for a simple chair to sit with others during his visit to Russia.
Commerce Minister Piyush Goyal shared a Twitter video of Modi opting for a chair over the sofa as officials can be seen replacing the sofa with a chair on Tuesday.
PM @NarendraModi जी की सरलता का उदाहरण आज पुनः देखने को मिला, उन्होंने रूस में अपने लिए की गई विशेष व्यवस्था को हटवा कर अन्य लोगों के साथ सामान्य कुर्सी पर बैठने की इच्छा जाहिर की। pic.twitter.com/6Rn7eHid6N

— Piyush Goyal (@PiyushGoyal) September 5, 2019
"Prime Minister Narendra Modi's simplicity was on display today as he got the special arrangement for him removed and chose to sit on a common chair along with others," Goyal tweeted.
Modi was in Russia on a two-day visit to attend the Eastern Economic Forum in Vladivostok.
ALSO READ | Reports about 'praising Modi' irritates me: Shashi Tharoor
ALSO READ | GDP growth is 5%: Chidambaram mocks Modi government on slowdown
ALSO READ | Modi government keen to further strengthen India-Singapore relations: Amit Shah