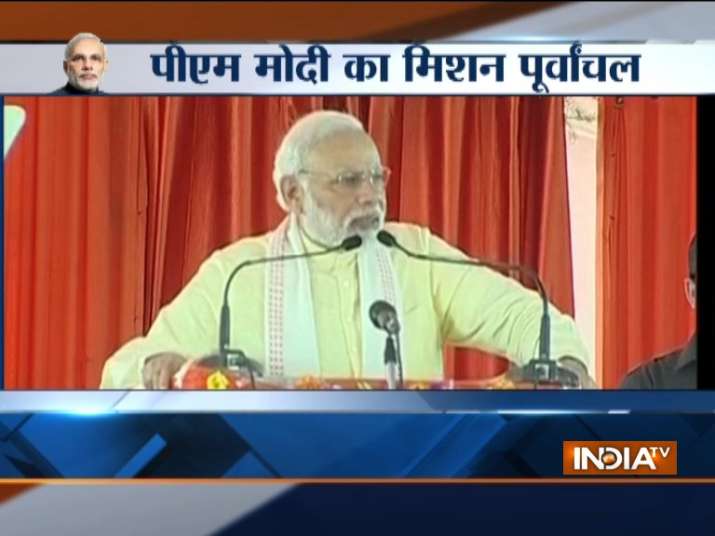 Prime Minister Narendra Modi on Saturday laid the foundation stone of Rs 23,000-crore Purvanchal Expressway in Uttar Pradesh's Azamgarh. After the event, PM Modi traveled to his Lok Sabha constituency Varanasi where he addressed a public gathering and also meet BJP workers at DLW guest house.
On the second day of UP tour, PM Modi is scheduled to visit Mirzapur on Sunday (July 15) where he will dedicate the Bansagar Canal Project to the nation there and lay the foundation stone for the Mirzapur Medical College. 
HIGHLIGHTS:
17: 57 PM: Whenever I meet the PM of Japan, I see that that he always recounts his experience in Varanasi to any Indian who meets him. The way you welcomed the President of France...they still praise it. That is the culture of Varanasi, that is the love of Varanasi: PM Modi
17:46 pm: So far more than 200 projects of Rs 21,000 Crore have been approved to keep river Ganga clean and to see that the waste of the cities are not dumped in the river: PM Narendra Modi
17:41 pm: A new Varanasi is being built for New India, its soul will be ancient but its body will be modern. There will be culture & traditions in every corner of it but the facilities provided to it will be 'smart': PM Narendra Modi
17:35 pm: During previous govts there was no development in Varanasi, development projects were stalled. But when the people voted for us & chose BJP govt for Lucknow, the region started moving forward on the path to development: PM Narendra Modi in Varanasi
17:20 pm: A daughter from Assam (Hima Das) created history (first Indian woman to win gold at the 400 metre final Athletics Junior World Championships): Modi
16:00 pm: I have read in newspaper that Congress President has said that Congress is a party of Muslims, I am not surprised by this. All I want to ask is, is their party only for Muslim men or for women too? Ye log sansad mein kanoon dabakar baith jaate hain: PM Narendra Modi
15: 59 pm:  The take of these parties on triple talaq have exposed them. On one side the Centre is trying to make the lives of women easy, on the other side these people have grouped together to make the lives of women, especially Muslim women, difficult: PM Modi
15:55 pm: Those who didn't even like looking at each other earlier, are now chanting Modi Modi. These people, out on bail, & the dynast parties now want to create obstacles on your path to development: PM Narendra Modi
15:49 pm: We are working on not only highway but also waterway and airway. Ships sailing from Varanasi to Haldia will take this entire region ahead on the path of industrial development. 12 airports are being developed under UDAN scheme: PM Narendra Modi
15:44 pm: BJP govt is working to create an environment of development in UP. What Yogi ji did towards putting a check on crime & corruption, bringing investments to the state & making business easier for small traders, is commendable: PM Narendra Modi
15:38 pm: Purvanchal Expressway will take UP, especially Eastern UP, to greater heights. More than Rs 23,000 Crore will be spent on it. All the cities, towns & places falling in the route will experience a change: PM Narendra Modi 
15:30 pm: CM Yogi Adityanath is doing great work in UP: Modi
​ALSO READ | Lok Sabha elections 2019: Amit Shah says to party leaders in Telangana to focus on winning substantial number of seats in LS polls
PM Narendra Modi lays the foundation stone of Purvanchal Expressway in Azamgarh. pic.twitter.com/RdVxoPBVIC

— ANI UP (@ANINewsUP) July 14, 2018
09:37 am: BJP, SP squabble over Rs 23,000-crore Purvanchal Expressway project which PM Modi will launch today in Azamgarh | Read 
09:35 am: 
Kashi is all set to welcome PM @narendramodi.

The Prime Minister will be in Kashi to attend various programmes on 14th and 15th July. pic.twitter.com/BpXkCaZ9sP

— PMO India (@PMOIndia) July 13, 2018
09:32 am: The Prime Minister will dedicate and lay the foundation stone of important projects, cumulatively worth over Rs. 900 crore in Varanasi later in the day. Among the projects to be dedicated are the Varanasi City Gas Distribution Project, and the Varanasi-Ballia EMU train.
09:31 am: Once this Expressway is complete, Delhi will be connected via the Expressway, to several major towns and cities of the State of Uttar Pradesh, from Noida in the west, to Ghazipur in the east.
09:30 am: PM Modi will lay foundation stone of the 340 km long Poorvanchal Expressway at Azamgarh in Uttar Pradesh today. This road will connect several towns of eastern UP, including Barabanki, Amethi, Sultanpur, Faizabad, Ambedkar Nagar, Azamgarh, Mau and Ghazipur – with the State Capital – Lucknow.
About Purvanchal Expressway 
The six-lane expressway, which can be expanded to eight lanes, will provide a smooth ride between Lucknow and Ghazipur in eastern UP.
It will connect the state capital Lucknow with economically less developed districts like Azamgarh, Mau, Ghazipur, Faizabad, Sultanpur, Ambedkar Nagar and Amethi.
The eastern districts will be further connected to Agra and the national capital by the Lucknow-Agra Expressway and Yamuna Expressway.
The UP Cabinet had recently approved a proposal to seek bank loans of about Rs 12,000 crore for Purvanchal Expressway. The total cost of the project is over Rs 23,300 crore.
The project is likely to be completed in 36 months. 
(With inputs from agencies)