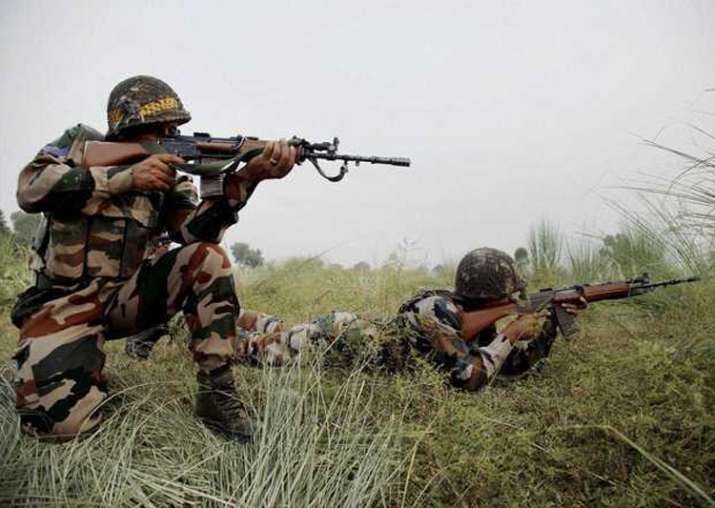 Pakistani troops today violated the ceasefire along the Line of Control (LoC) in north Kashmir's Kupwara district. There are no reports of any casualties.
"The Pakistani troops resorted to unprovoked firing on Indian posts along the LoC in Karnah sector in Kupwara," an army official said.
He said the Pakistani troops fired upon the Indian posts at midnight and continued the firing till early hours of the morning.
"The firing was effectively retaliated by the troops," the official said. 
Earlier on Friday, a Border Security Force (BSF) jawan was killed in a sniper attack by the Pakistani army from across the Line of Control (LoC) in Jammu and Kashmir's Poonch district. 
The BSF said that the Pakistani army violated the ceasefire and targeted a jawan of the border guarding force, who was on duty at a post along the LoC, with sniper fire. The jawan, who was critically injured in the attack, succumbed subsequently.
It maybe recalled that BSF troops had, on August 26, killed three Pakistani rangers, in retaliation to a jawan of the force sustaining injuries in sniper fire from across the LoC, along the International Border (IB) in Jammu the previous day. 
2017 has seen a sharp increase in ceasefire violations by Pakistan. Till August 1, there were 285 of such violations by the Pakistan Army, while in 2016, the number was significantly less at 228 for the entire year, according to Army figures. 
Eleven persons, including nine soldiers, were killed and 18 injured in ceasefire violations by Pakistan Army in July, as per the Army data. There were 83 ceasefire violations, one BAT (Border Action Team) attack and two infiltration bids from the Pakistani side in June, in which four persons, including three jawans, were killed and 12 injured. In May, there were 79 ceasefire violations, according to officials.