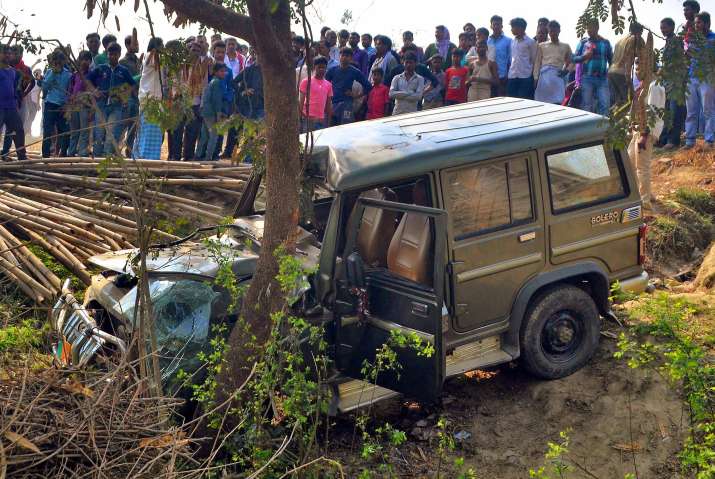 Suspended BJP leader Manoj Baitha, accused of mowing down nine children with his SUV in Muzaffarpur recently, has surrendered before the police, ANI reported.
After the arrest, the police shifted him to Patna Medical College and Hospital from Sri Krishna Medical College and Hospital for treatment of the injuries he suffered during the accident.
Baitha, a district-level BJP worker from Sitamarhi, was suspended from the saffron party on Monday night for a period of six years after an FIR was lodged against him in connection with the case.
An SUV on Saturday mowed down nine children of Dharampur Middle School while crossing the national highway on their way back home, triggering outrage in the area. The car was owned by Baitha and he was allegedly driving it in a drunken state. 
According to police, three people fled the spot after the car knocked down the children, aged between seven and 13 years. 
According to the family of the suspended leader, he incurred injuries on face and head. Hence, he is unable to speak. In sign language, Baitha has denied the allegations of driving under the influence of alcohol. 
"Manoj has never had liquor in his life," a family member accompanying Baitha said.
Baitha, in sign language, said that he was saddened by the death of nine children, he allegedly hit by his car. 
On being questioned about why he fled the scene after the accident, where was he hiding, how did accident take place, Baitha replied he can't answer as he was unable to speak. 
Bihar Chief Minister Nitish Kumar had on Sunday expressed concerns over the increasing number of road rage cases in the state and assured "strict action against the guilty".
Following the accident, Union Minister Ravi Shankar Prasad announced the cancellation of Holi celebrations at PNT Community House in Patna planned for March 1.