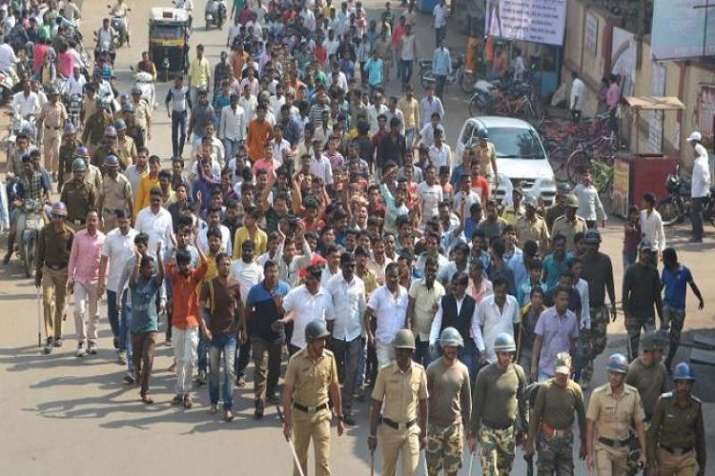 Traffic in some parts of Maharashtra was disrupted on Thursday as Maratha agitators held state-wide protests pressing their reservation demand for the community. Buses and other vehicles were halted by the protesters on roads in Solapur, Latur and Buldhana districts of the state, officials said.
Bandh across the state has been called by an umbrella body of Maratha groups, 'Sakal Maratha Samaj'.
Even as Maratha groups have excluded Navi Mumbai from the bandh, the Agriculture Produce Market Committee (APMC) in the densely populated township has decided to remain shut for the day.
The bandh also excludes essential services, the supply of vegetables was however affected in some parts of Maharashtra, including in Mumbai, confirmed APMC officials.
Petrol pumps, vegetable markets and state transport buses are not operational in Satara.
A bike rally in Pune district has also been planned by the agitators demanding reservation for the Maratha community.
Roads in Latur were blocked from midnight, while vehicular movement was disrupted by a pro-quota group.
Similar situation was witnessed in Nashik, Buldhana and Solapur districts on Thursday morning, officials said.
Shiv Sena MLA from Kolhapur, Prakash Abitkar on Wednesday claimed he had sought permission of the state Assembly Speaker to hold an agitation in the Vidhan Bhawan premises in Mumbai on Thursday, to extend support to the Maratha community's demand for reservation.
Maharashtra Chief Minister Devendra Fadnavis had assured his government was working on providing reservation to Marathas in government jobs and educational institutions, one that is legally sustainable.
Fadnavis had sought time till November to take steps on the quota.
Senior state minister Chandrakant Patil on Wednesday said "nothing can be done" on their demand till November 15.
Security measures have been tightened by the state police to maintain law and order.