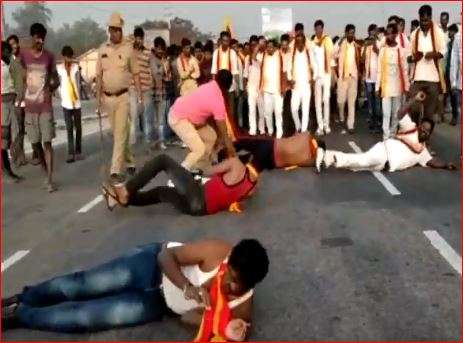 Normal life was disrupted in different parts of Karnataka today due to a state-wide bandh called by pro-Kannada outfits demanding Prime Minister Narendra Modi's intervention in the inter-state Mahadayi River water row with neighbouring Goa.
Major impact of the dawn-to-dusk bandh is being seen in northern districts that come under Malaprabha river basin.
In other parts also, normal life has been hit as certain public services were paralysed.
Also Read: Karnataka Bandh Live Updates: We Kannadigas have right to the water, says actor Prakash Raj
With state-run buses remaining off the road, passengers who had come to the city from outside were stranded at the main bus terminal in Bengaluru
Similar reports have come in from ?Mysuru, Gadag, Dharwad and Hassan.
Autorickshaws and cabs were plying but in lesser numbers
Cab and auto rickshaw drivers said customers were few on Thursday as most of the offices have declared holiday.
As a precautionary step, schools and colleges in most parts of the state have declared holiday.
Several examinations have also been rescheduled.
A group of protesters tried to disrupt rail services by entering the Bengaluru's Sangolli Rayanna railway station but police stopped and detained them
Protest was also staged in front of Manyata Embassy Business Park, a software technology park in the city, 
While the film industry and multiplexes have decided to remain shut, hospitals and clinics are expected to function normally, with Indian Medical Association office bearers stating that they will be extending moral support by wearing a black band.
Though hotels, restaurants and eateries were opened in some areas, owners said they may have to stop their services depending on the situation as customers are also less
Differences have cropped up among Kannada organisations regarding the bandh call.
Vatal Nagaraj, who heads 'Kannada Okoota', an umbrella organisation of Kannada bodies, visited different parts of the city this morning and claimed the bandh has been "total"across the state and thanked public and organisations for cooperation
Police said elaborate security arrangements have been made across the state to ensure that no untoward incident occurs.
Opposition BJP has termed the bandh as "politically motivated" and alleged the ruling Congress' role, saying it was synchronised with dates when BJP national President Amit Shah in Mysuru on Thursday to address a party rally.
Similarly, a Bengaluru bandh has been called on February 4 also, when Prime Minister Narendra Modi is visiting the poll-bound state to take part in 'Nav Karnataka Parivartan Yatra' of the state unit in the city.
Speaking to reporters in Mysuru, BJP Member of Parliament Pratap Simha called it a government sponsored bandh.
He said the government's clear intention is to disrupt Shah's rally and that is the reason why the buses stopped bus from plying.
Karnataka, which has locked horns with Goa on sharing Mahadayi River water, is seeking release of 7.56 tmcft water for the Kalasa-Banduri Nala project.
The project is being undertaken to improve drinking water supply to the twin cities of Hubballi-Dharwad and districts of Belagavi and Gadag.
Attempts made by Karnataka to amicably solve the issue pending before the Mahadayi Water Disputes Tribunal?through discussion have failed to bear fruit.