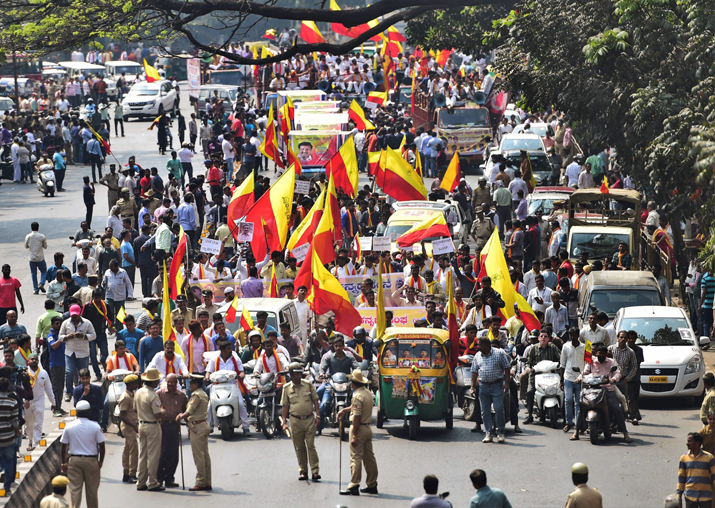 The state wide bandh called by pro-Kannada outfits demanding Prime Minister's intervention in the inter-state Mahadayi river water row with neighbouring Goa disrupted normal life in most parts of Karnataka today.
Major impact of the dawn-to-dusk bandh was seen in northern districts, which are seeking water from the Mahadayi basin, while it crippled normal life in other parts also, as public services were paralysed.
State run buses remained off the roads. Auto rickshaws and cabs were available in Bengaluru but in fewer numbers. However, in the evening the city limped back to normalcy with buses back on the road and shops and commercial establishments reopening.
"Namma Bengaluru is back to Normalcy..." Bengaluru city police said in a tweet.
Similar reports have come from different parts of the  state, where bandh has been peaceful.
Police had made elaborate security arrangements across the state to ensure that no untoward incident occur.
Vatal Nagaraj, who heads 'Kannada Okoota', an umbrella organisation of Kannada bodies that led the protest march from town hall to Freedom Park in the city today, warned protests in front of the Parliament if Prime Minister Narendra Modi doesn't intervene in the matter.
"Bandh has got very good response. Prime Minister should intervene. Until his intervention, we will conduct protests at different stages. Finally we will also stage protest in front of Parliament in Delhi," he said.
As a precautionary step, schools and colleges in most parts declared holiday. Several examinations were also rescheduled.
Earlier in the day, a group of protesters tried to disrupt rail services by entering the Bengaluru's Sangolli Rayanna railway station but police stopped and detained them.
Protest was also staged in front of Manyata Embassy Business Park, a software technology park in the city, alleging that several IT companies inside were functioning as usual, evading the bandh call.
While the film industry and multiplexes had decided remain shut, as also shopping malls, hospitals and clinics functioned normally, with Indian Medical Association office bearers stating they will be extending moral support by wearing a black band.
Very few hotels, restaurants and eateries were opened  in the city, and stray minor incidents of stone throwing were also reported with the bandh organisers targeting shops that refused to down shutters.
Opposition BJP has termed the bandh as "politically motivated" and alleged the ruling Congress' role, saying it was synchronised with dates when BJP national President Amit Shah was in Mysuru today to address a party rally.
Similarly, a Bengaluru bandh has been called on February four also, when Prime Minister Narendra Modi is visiting the poll-bound state to take part in 'Nav Karnataka Parivartan Yatra' of the state unit in the city.
Addressing a rally in Mysuru, Shah said the "Parivatan Yatre" led by BJP state unit President B S Yeddyurappa has created fear among Congress men and that was why the state government was trying to stop rallies by supporting bandh using "non democratic" means.
Karnataka, which has locked horns with Goa on sharing Mahadayi River water, is seeking release of 7.56 tmcft water for the Kalasa-Banduri Nala project.
The project is being undertaken to improve drinking water supply to the twin cities of Hubballi-Dharwad and districts of Belagavi and Gadag.
Attempts have been made by Karnataka to amicably solve the issue pending before the Mahadayi Water Disputes Tribunal through discussion have failed to bear fruit.
Repeated efforts by the state seeking Prime Minister's intervention to solve the issue, has also not been successful.
As it happened:
#Karnataka CM Siddaramaiah writes to PM Modi requesting him to confer 'Bharat Ratna' on Sri Sri Sri Sivakumara Swamigalu 
BJP president Amit Shah addresses Parivartan Yatra rally in Mysuru:
Amit Shah slammed the Congress for trying to disrupt his party's rally. He said that despite desperate attempt to disrupt the rally, 'we have managed to hold it'.
He said that the Congress was 'behaving like it did during Emergency'. "Congress hasn't forgotten its Emergency mindset," Shah said, challenging Chief Minister Siddaramaiah to stop the BJP from forming government in Karnataka.
He praised BJP's chief ministerial candidate BS Yeddyurappa for successfully organising the Parivartan Yatra. "Starting from 2 November, the Parivartan Yatra has travelled across 224 constituencies covering 8000 kilometres so far. So, I congratulate Yeddyurappa because no one has organised such a massive campaign for the movement in Karnataka ever."
# On incidents of political killings, he said: "I assure you, our 20 workers' sacrifice won't go in vain. Once we come to power, we will hunt them down even if they are in pataal and send them to jail".
1:30 pm: On Mahadayi river row, actor Prakash Raj says "we Kannadigas" have a right to the water".
12:05 pm: The Goa government-run Kadamba Transport Corporation Limited (KTCL) has suspended its bus services to Karnataka owing to the bandh called in the neighbouring state.
11:52 am: The Goa government has set up a four-member committee to monitor any possible activity in Maharashtra or Karnataka to divert the river water.
11:30 am:  Autorickshaws and cabs are plying but in lesser numbers.
11:12 am: Schools and colleges in most parts of the state have declared holiday. 
Protests in #Bengaluru's town hall during bandh call in Karnataka over Mahadayi water dispute pic.twitter.com/e6UQOAudSx

— ANI (@ANI) January 25, 2018
10:45 am: A group of protesters tried to disrupt rail services by entering the Bengalurus Sangolli Rayanna railway station but police stopped and detained them.
No effect of #KarnatakaBandh yet in Kalaburagi; bandh has been called over Mahadayi water dispute pic.twitter.com/Ulpw1LgL9A

— ANI (@ANI) January 25, 2018
10:30 am: Pro-Kannada outfits have called for a Karnataka bandh when BJP president Amit Shah will address a rally in Mysuru and a Bengaluru bandh on February 4, the day PM Modi arrives in the city to address a public meeting.
10:12 am: BJP Member of Parliament Pratap Simha called it a government sponsored bandh.
#Visuals from Bengaluru: Bus services suspended after state-wide bandh called in #Karnataka over Mahadayi water dispute pic.twitter.com/dxTKIOGLWL

— ANI (@ANI) January 25, 2018
10:01 am: Indian Medical Association office bearers say that they will be extending moral support by wearing a black band.
09:56 am: The 77km-long Mahadayi or Mandovi river originates at Bhimgad in the Western Ghats in Belagavi district of north-west Karnataka and flows into the neighbouring Goa and eventually joins the Arabian Sea off the west coast.
09:33 am: Though the river flows runs 29km in Karnataka and 52km in Goa, its catchment area is spread over 2,032km in the southern state as against 1,580km in the western state (Goa).
09:28 am: Karnataka has been asking Goa since 2001 to release 7.6 tmcft (thousand million cubic feet) of the river water to meet the drinking needs of its people in the drought-prone four districts and irrigating their farmlands.
09:27 am: The districts are Belagavi, Bhagalkote, Dharwad and Gadag in the northwest.
09:22 am: Karnataka plans to build two canals at Kalasa and Banduri, which are the tributaries of the river in the state, to divert and supply the water to the four districts.
09:10 am: The Mahaydai Water Disputes Tribunal, headed by J. N. Panchal, on July 28, 2016 rejected the state's petition for releasing the river water, citing various grounds, including ecological damage the twin canal projects may cause.