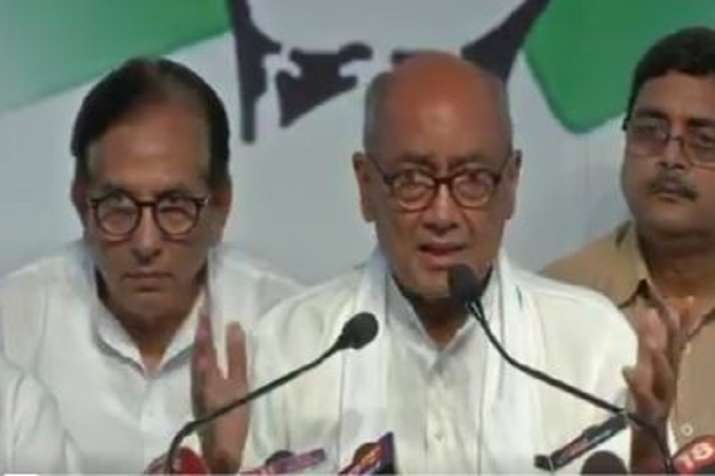 The construction of Ram Temple at the disputed site in Ayodhya remains a big poll agenda for the ruling Bharatiya Janata Party (BJP) and now veteran Congress leader Digivijaya Singh has come out with another 'Ram' issue ahead of Madhya Pradesh Assembly elections.
Speaking during a press conference in Bhopal, Digvijaya Singh said that Congress will construct 'Ram Path', a mythical route taken by Lord Ram during his 14-year exile, stretching up to the borders of Madhya Pradesh if voted to power. Assembly elections in Madhya Pradesh are due later this year and the Congress is desperate to return to power in the state where it last ruled in 2003.
The former Madhya Pradesh chief minister also promised that his party would construct the 'Narmada Parikrama Path'.
"The ruling BJP had announced to develop the 'Ram Path' but never kept its promise. But, we are thinking to construct the 'Ram Path' up to the borders of the state. The 'Narmada Parikrama Path' would also be constructed," Digvijaya Singh.
Narmada Parikrama is a walk along the banks of the river Narmada which covers a distance of 3,300 kms.
Responding to a query whether the Congress is adopting 'soft Hindutva', the former chief minister said there was nothing like soft or hard Hindutva. "Hindutva has nothing to do with the religion," he said.
#WATCH Senior Congress leader Digvijaya Singh says 'they(Shivraj Singh Chouhan and BJP) had promised a 'Ram path' but did not make it, when we come to power we will surely take it up. It will be built till the last border of Madhya Pradesh' (11.9.18) pic.twitter.com/McfdDjjJEx

— ANI (@ANI) September 12, 2018
The Shivraj Singh Chouhan government had announced on on October 1, 2007 that it would track the 'Ram Gaman Path' or the route that Lord Ram had taken in the 11 out of 14 years of his exile he had spent in the forests of state through the districts of Satna, Panna, Shahdol, Jabalpur and Vidisha.
When asked if the Congress was emulating the BJP by promising development of the 'Ram Path' and setting up cow shelters in the state, Digvijaya Singh replied in negative.
He said the so-called worshippers of the cow are only interested in collecting funds.