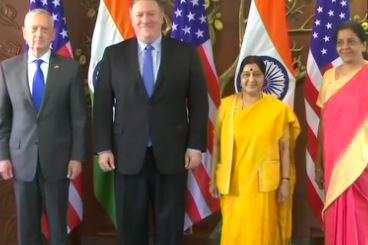 External Affairs Minister Sushma Swaraj during '2+2' talks in Delhi on Thursday said she is confident that level of partnership between India and US would further elevate in the near future.  
"I am confident that our discussions and decisions that we'll take today will help unleash the untapped potential of our relation and further elevate the level of our partnership," Swaraj said. 
Catch all the latest news about Lok Sabha elections 2019 HERE
"PM Modi and President Trump set future directions for our relationship. I am happy to note that there has been significant progress in all key areas of our relationship," she added.
Swaraj and Defence Minister Nirmala Sitharaman held '2+2' talks with United States Secretary of Defence James N. Mattis and the United States Secretary of State Mike Pompeo.
"The commencement of first ever ministry of 2+2 between India & US is a concrete manifestation of the work vision of our leaders PM Modi & US President Donald Trump to take India-US relationship to even higher trajectory," said Sitharaman.
Responding to India's stand Pompeo said, "We should continue to ensure freedom of the seas, skies, uphold the peaceful resolutions of the maritime disputes, promote market-based economics and good governance and prevent external economic coercion."
Official sources said a number of key bilateral issues were to be discussed during the meetings.
Both Pompeo and Mattis arrived here on Wednesday for the inaugural Indo-US two-plus-two talks which was finalised during Prime Minister Narendra Modi's visit to Washington last year.
In a special gesture, Swaraj received Secretary Pompeo at the airport here on Wednesday while Sitharaman welcomed Secretary Mattis, reflecting the importance India attaches to their visit here.
The officials said the focus of the two-plus-two talks will be to deepen the global strategic partnership between the two countries and resolve differences over India's defence engagement with Russia and crude oil import from Iran.