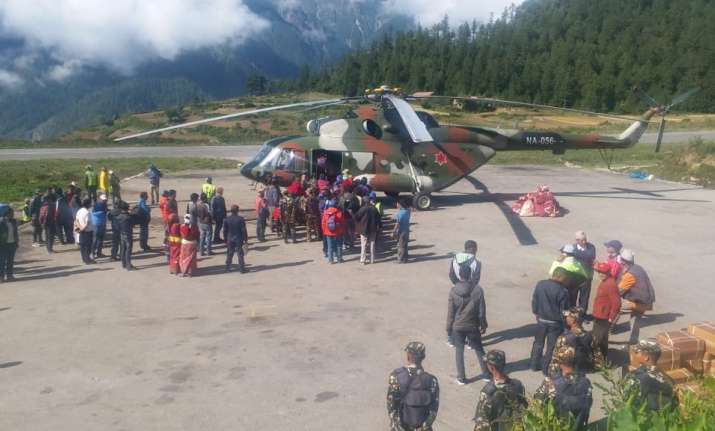 At least 143 Kailash Mansarover Yatris have been rescued via 10 commercial flights from Simikot to Nepalgunj today, an Indian Embassy statement said. 
According to the Embassy of India's official headcount, there were 643 people stranded in Simikot and 350 stranded in Hilsa till Wednesday night. 
With a view to expediting the evacuation process, the Embassy is also exploring the possibility of hiring chartered helicopters and operating them on various evacuation routes subject to weather condition and willingness/ability of carrier to ply on these routes, the Indian Embassy in Kathmandu said. 
On Wednesday, five commercial flights and three Nepal Army chopper made sorties evacuating 119 people from Simikot to Surkhet. The Embassy has also arranged buses for transportation of the people from Surkhet to Nepalganj.
On the Hilsa-Simikot sector, helicopters made 35 sorties evacuating close to 200 people from Hilsa to Simikot.
The Embassy continues to monitor the situation in Nepalganj-Simikot-Hilsa sector and is taking all possible measures to evacuate all stranded Indian nationals and Indian-origin people from the area, the official statement said. 
Meanwhile, the Ministry of External Affairs has issued a fresh advisory to tour operators running Kailash Mansarover Yatra. 
In the wake of recent inclement weather condition along the Nepalganj-Simikot-Hilsa route of Kailash Mansarovar Yatra (through Nepal) and consequent stranding of pilgrims for over a week's time, the MEA has advised the prospective pilgrims/state governments/tour agencies to apprise themselves with the ministry's standing advisory and implement it in letter and spirit.
The ministry also asked all prospective pilgrims to get a proper medical check up  before starting the Yatra as well as carry sufficient medicine for up to one month as Simikot and Hilsa in Nepal are extremely infrastructure lean places lacking basic medical,comfortable boarding and lodging facilities. 
Meanwhile, the embassy has set up a hotline for pilgrims and their family members, which also comprises other language speaking staff for Tamil, Telugu, Kannada and Malayalam speakers. 
The pilgrimage to Kailash Mansarovar in Tibetan region of China is considered holy by Hindus, Buddhists and Jains. Every year, hundreds of Indians undertake the 'yatra' which involves trekking under inhospitable conditions.